HHS Homecoming Dance Filled With Hingham Spirit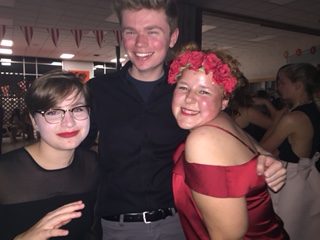 Hang on for a minute...we're trying to find some more stories you might like.
After a day of successful sporting events at Homecoming, many students returned to the high school for the Homecoming Dance. Early in the previous week, tickets were on sale during all the lunches. Due to the 500 person limit, the tickets sold out quickly.
The Homecoming Dance was held in the cafeteria. Members of the senior class had spent the afternoon decorating for the theme this year: Hingham Spirit. Red and white streamers tastefully adorned the walls and balloons were all over the place. White Adirondack chairs were arranged in the back to give students a place to take a quick break from all the dancing.
A photo booth was also available to students who wanted to get a picture together. It was run skillfully by Andrew Mariner Photography and was so popular with students that there was a constant line. When taking the photo, students had a selection of props to choose to have in the photo. Examples of props include a baby face mask and funky sunglasses.
Despite the photo booth and chairs, most students danced the night away. A DJ played both old and new songs, many of which were requested by students. Senior Stephanie Pett said that she was "so pumped' to dance as it was her last Homecoming Dance.
Toward the end of the evening, students began to filter out in groups of friends and the chaperones got in on a little of the dancing. For the final song, the DJ played All Star by Smash Mouth, and all remaining students danced along.
Senior John Joyce, who attended his first and last Homecoming Dance in one, said he was "pleasantly surprised by the dance". Overall, the evening was well planned by the representatives of the Class of 2017 and very enjoyable for students from all classes.