HHS Crew Competes at the NEIRA Championships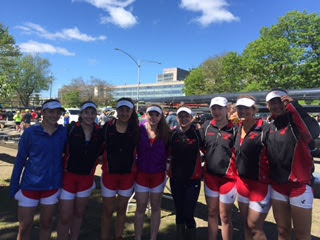 Hang on for a minute...we're trying to find some more stories you might like.
On Saturday, May 27th, the Hingham High crew team competed at NEIRA (New England Interscholastic Rowing Association) Championships. The girls' 3rd varsity boat raced first and finished in 4th place, but missed qualifying for their final by half of a second. The boys' 3rd varsity came in 6th, and the girls' 2nd varsity boat came in 3rd, which meant that they also just missed qualifying for their final.  The boys' 2nd varsity boat didn't race that day. The girls' and boys' 1st varsity boats finished 3rd and 4th respectively, allowing them to move forward and compete in the petite final. The crew members rowed well, with the girls earning 2nd place and the boys placing 5th.