Pumpkin Carving: A Fall Favorite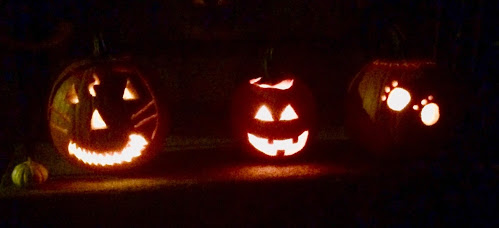 Hang on for a minute...we're trying to find some more stories you might like.
As fall strengthens and temperatures begin to drop, spirits are heightened in anticipation for the upcoming holidays and traditions that accompany this beautiful season. Of the most popular customs associated with autumn, pumpkin carving tends to cause plenty of excitement.
With Halloween creeping up on those still stuck in their summer haze, soon they too will feel the spirit of the season as these decorative displays line the streets of towns all over the nation. But has anyone truly stopped to wonder how this famous tradition came to be and why it remains so significant in society today?
This widely known activity actually originated from an Irish folktale long ago. The story revolves around a fictional man named "Stingy Jack" who invites the Devil to have drinks with him. Jack does not want to pay for the drinks, so he asks the devil to turn himself into a coin to pay their bill. Once the Devil does so, Jack decides to take the money and he keeps the coin next to a cross, preventing the Devil from transforming back.
Later, Jack makes a compromise with the Devil in which Jack promises to free the Devil, as long as the Devil does not bother Jack or claim his soul at death. Soon after, Jack traps the Devil in a tree by asking him to pick some fruit. He then carves a cross into the bark, which makes the Devil unable to come down, unless he agrees to leave Jack alone for ten more years.
Some time after, Jack dies, but God does not allow him into heaven because he was very deceitful in his life. The Devil is so angry about the tricks Jack had played on him that he will not allow Jack into Hell either. Instead, he gives Jack a burning coal, and he sends him off in the night. The legend says that Jack placed this coal into a carved out pumpkin and he has aimlessly roamed the world ever since.
Despite its unsettling tone, this legend increased in popularity within Ireland and Scotland, and many people dubbed this ghostly figure "Jack of the Lantern." This title later formed into the more commonly known "Jack O' Lantern."  
Not long after the story's creation, people started to make their own Jack O' Lanterns by carving out faces into turnips and potatoes and displaying them around their houses to ward off "Stingy Jack." Then, as the Scottish and Irish immigrated to other countries, this tradition spread and developed into the silly carved out pumpkins known and loved today.
As for modern day society, this tradition is still prevalent. Families all around the United States practice this tradition, and it has become a special part of the culture. Most people have their own unique ways of doing it, which makes for great stories, and it adds a new level of sentimental value to this popular activity.
When asked about her personal experiences, freshman Kate O'Donnell reminiscently explained, "I walk up to my neighbor's house, and we have a pumpkin carving contest. It is one of my favorite things to do with her."
Sophomore Emily Goldstein shared her tradition as well and excitedly blurted, "My family and I carve pumpkins together the night before Halloween, and then we bake the seeds for snacks the next day."
Pumpkin carving is not only an exciting pastime, but it also gives people the chance to take a break from their daily lives and spend cherished time with their friends and family. Freshman Paola Aoun summed up the significance of this fall favorite by saying, "It's a fun activity to bring friends and family together."