About The Harborlight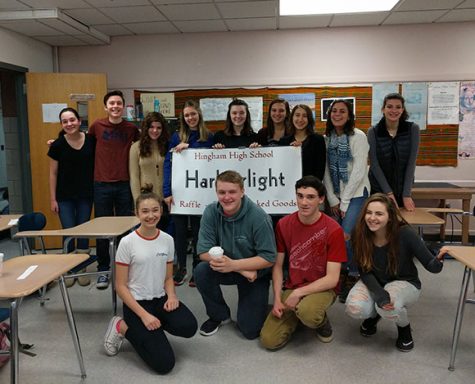 Above is the majority of our 2016-2017 staff. Kneeling in front from left to right: Ruthie Kerber, Curran Dillis, Collin Bonnell, and Caroline Kourafas. Standing in back from left to right: Lizzie Quinlivan, Will Sutton, Edan Larkin, Claire Stone (Photography Editor), Rose Flynn (Managing Editor), Rachel Jensen (Editor-in-Chief), Shira Berkin (Junior Editor), Liv Casey, and Claire Fennelly.
Hingham High School's The Harborlight began in 1963. Over the years, it evolved from a magazine format, to a newsletter, to a newspaper, to its current format-a continuously updating website. Ms. Fennelly, The Harborlight adviser for the past 17 years, has been teaching English at Hingham High since 1996. Most students involved are after school staffers, but some students were also enrolled in the Journalism class which ran last year.
If you are interested in placing an ad in The Harborlight, contact Ms. Fennelly at [email protected] If you would like to contact a specific Harborlight staff member, please click on the "Staff" link, found at the top or the bottom, of this website.  Simply select the writer with whom you would like to communicate and either email that student or leave a comment for that student.  You may also leave a general comment on any page.  Please be aware that, while  emails are private, comments left on any page of the website are public and subject to review/removal.
Any student who wishes to join The Harborlight can attend any meeting, speak with any staff member, or visit Ms. Fennelly in room 184.Annmarie Fennelly.