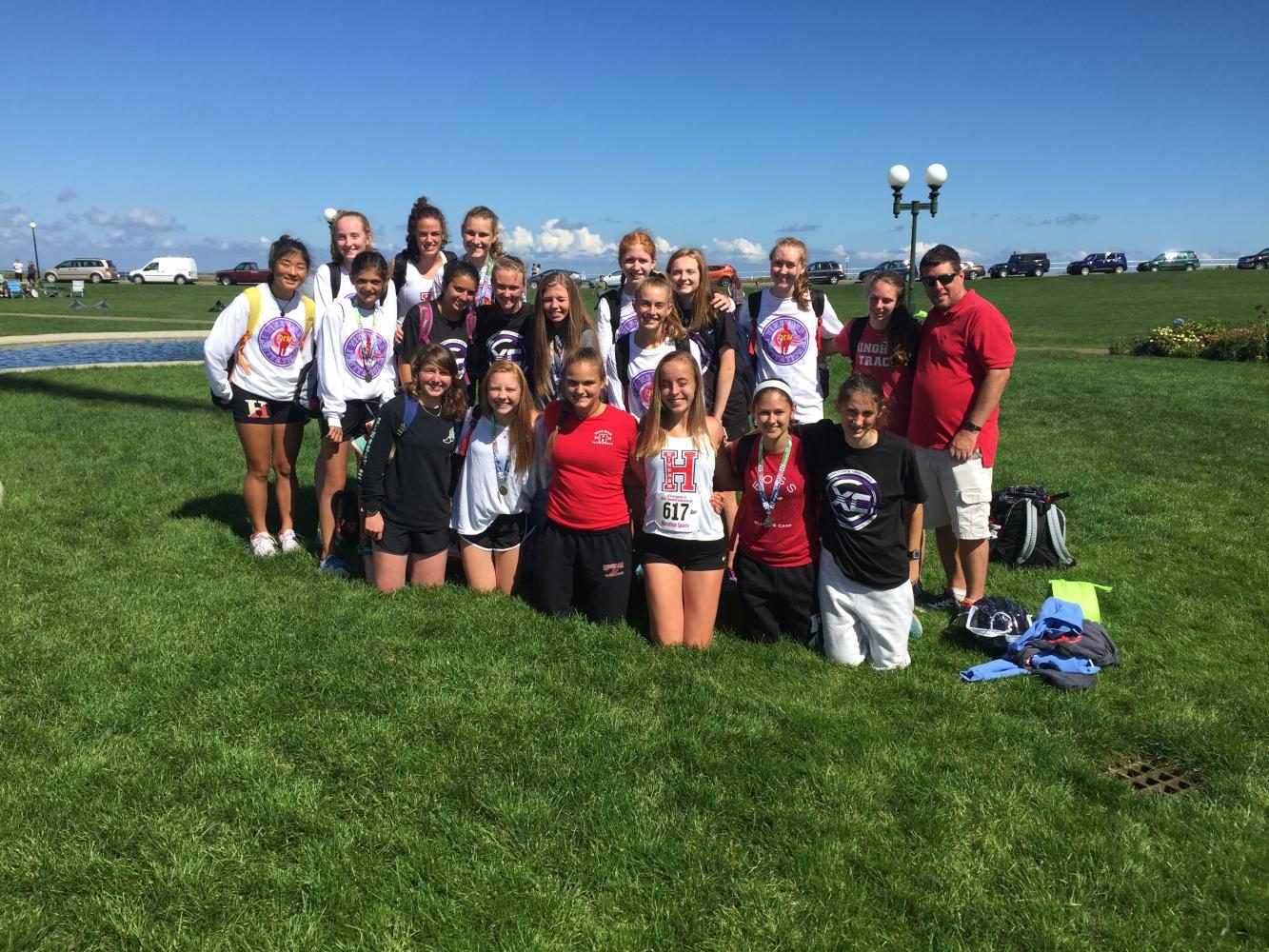 This past weekend, September 9th, the Hingham Girls' Cross Country team traveled to Martha's Vineyard for the annual Vineyard Cross Country Invitational.
The day started off with an early wake-up call at six thirty in the morning for a bus that would bring them to the boat. The boat left promptly for Oak Bluffs where the meet is held yearly.
On the way there, the bus energy was subdued, but as the sun steadily rose, so did everybody's spirits. Excitement was rampant. Sophomore Emma Sommers said "We were all nervous, but we're definitely looking forward to the meet and the day on the island." Many of the veteran senior girls' on the cross country team have participated in this meet every year. It is one of their favorites because of the low-key atmosphere surrounding the meet, but at the same time still competitive without any stakes.
Walking onto the fields, the first impression that jumps out at arriving teams is the openness of the course. The course snakes through the grass into an opening about eight feet wide that leads to the woods and a sandy path. For the new girls and those of who had never raced here, the course tour was the perfect gateway to get them pumped to run. Junior Lindsey Vogelmann said "It is a classic cross country course. We got fields, forest trails, sand, rocks, and a bit of a hill. It is exciting."
The races started exactly on time with first the JV girls' race followed by the boys' and then an hour later the Varsity girls' race. There were nineteen girls who went to the meet and the top seven qualified to be in the Varsity race.
To win a cross country meet, the team with the lowest score takes first. Only the first top seven girls on a team affect the score. For example, first place earns one point, second earns two points, and so on. The sixth and seventh girl do not always count, but they can push the top seven other girls' team scores up. Scoring is only done based on the varsity races.
The day went very well for both races and afterwards the girls got to sit out by the water on Oak Bluffs and enjoy the late afternoon. It was the perfect ending to a hard effort.