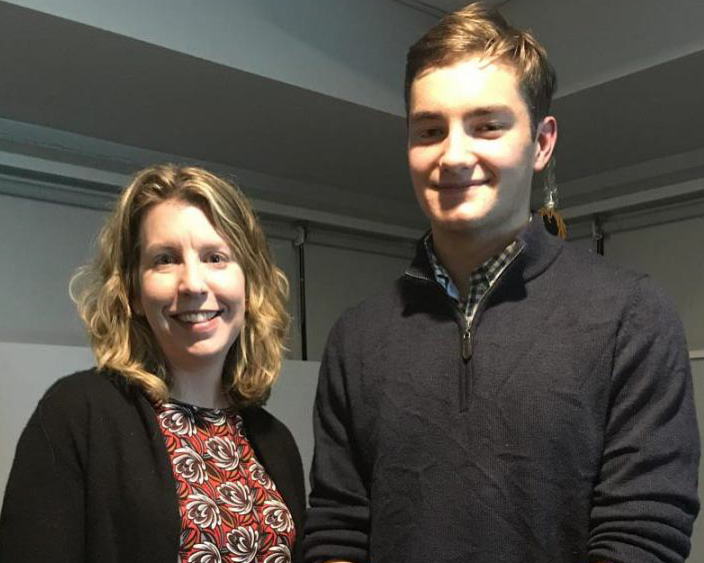 Kaylee Hill
Wednesday, November 1st, Senior Dylan Davis presented his Silent Hero Project at Hingham Public Library depicting the story and bravery of Staff Sergeant Sherrard Billings II. Over the summer, Davis participated in an opportunity overseas with fourteen other students and teachers from across the country. The program, all paid for by Albert H. Small and called Normandy: Sacrifice for Freedom, involves students creating a life-long trace and monument to a fallen hero. At the conclusion of the entirety, students return home from their trip and present their fallen hero and experience, sharing the profound impact of their knowledge.
The trip began in Washington D. C where students continued research on their fallen heroes. Through National Archives and the authenticity of history documents, students prepared a presentation and eulogy on their fallen heroes from World War II. At the end of their research, students and teachers made their way to Normandy, France, the place during World War II where some the action occurred June 6th, 1944, D-Day. Visiting the beaches in Normandy, especially Omaha, where the bloodiest battle occurred with the most casualties, allowed the history to really come alive.
Davis' description of the immense moments that encompassed the group stepping onto the beach and at the grave sites allowed his audience to sense how powerful it felt. Senior JD Hernberg said "I got emotional from how striking Dylan's presentation was because even though my grandfather was in World War II, I never really had thought about what his experience was like. His presentation not only helped me realize how much my grandfather had risked, charging up Normandy beach with the tide at his heels into the gunfire, but also about how much good was coming out of helping the Europeans try to recover their lands. His presentation was absolutely terrific, although I don't have an adequate enough vocabulary to describe how good it really was."
After spending a year researching his Silent Hero, Davis and all the other students' felt the weight of giving their eulogies at their hero's grave. Davis' relayed "Being at the grave was like an accumulation of all the research. It was a lasting mark where you're getting the story of this person and telling it in a way that has not been told before, which was very gratifying and told in a new way."
Staff Sergeant Sherrard Billings II of Hingham, like so many others, perished four days after D-Day, June 10th, 1944 in a B-26 Bomber as a tail gunner, fighting to free Europe once again from Nazi Germany. Davis visited Magneville, where Billings' plane crashed and where the five other crewmen in the B-26 perished. The impact, not only learning about such a brave person, but actually getting to experience a little bit of what Normandy might have been like during D-Day and the profound courage it took to fly the B-26 trail runner will forever be remembered in Davis' online presentation and memorial.