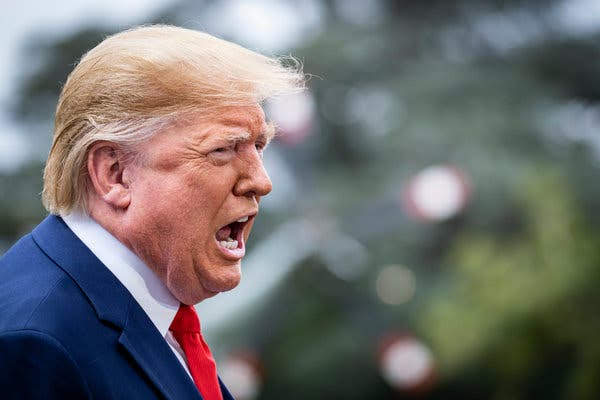 Pete Marovich / The New York Times
On August 12, a CIA officer reported a call between President Trump and President Zelensky of Ukraine. The whistleblower alleged that Trump pressured Zelensky into investigating 2020 presidential candidate Joe Biden and his son Hunter after withholding 400 million in aid previously designated for Ukraine. This complaint ultimately led to Nancy Pelosi's formal declaration of an impeachment inquiry on September 24. 
Chairman Adam B. Schiff of the House Intelligence Committee is leading the investigation, and both present and former members of the Trump administration have been called to testify. In addition, subpoenas for documents and other evidence have been issued to the White House, the Defense Department, and the budget office (among other agencies). So far, the House is bringing in around half a dozen witnesses per week and is conducting private hearings for each. Most of the witnesses provided information that backs the whistleblower's original complaint, including Fiona Hill, who confirmed that Trump's personal attorney Rudolph Giuliani was conducting a shadow foreign policy in Ukraine. 
House Republicans are also demanding the public testimony of the whistleblower, although Democrats claim evidence provided by other government officials is enough to corroborate the whistleblower's claims. 
The fact that the House is conducting these investigations behind closed doors is cause for unrest among some, including a group of about 2 dozen Republican lawmakers who protested a lack of public access to the testimonials on Wednesday. The protesters ended up delaying a key deposition for over 5 hours. 
After a brief pause in the investigation on Thursday and Friday to honor the recent death of Congressman Elijah Cummings, hearings will continue this coming week with the testimonies of Philip Reeker, acting assistant secretary of state for Europe and Eurasia, former deputy national security advisor Charles Kupperman, and current White House official Timothy Morrison. Another potential witness whom many Democrats think could be extremely invaluable is John Bolton, Trump's former national security advisor. Bolton was greatly involved in matters relating to the Ukraine, and could provide an independent viewpoint of events from over the summer. 
Despite the complexity of the entire process, some Hingham High School students are managing to stay up to date with current developments, including sophomore Alex Denning, who thinks "it's important for Americans to show they won't be represented by a person like Trump." She adds, "though it will take a long time, and it will probably be the end of his term when it ends, it means he won't be able to run again." 
Mr. Trump, as the subject of criticisms like these, denies having done anything wrong. In a tweet from September 25, he claims, "There has been no President in the history of our Country who has been treated so badly as I have. The Democrats are frozen with hatred and fear. They get nothing done. This should never be allowed to happen to another President. Witch Hunt!" His comments are what another student, who wishes to remain anonymous, finds "atrocious, especially his comparison of accusations against him to lynching." 
It is uncertain where events will go from here. If the House decides to impeach the President, a Senate-run trial resulting in either conviction or acquittal could take place between Thanksgiving and Christmas. However, if impeachment goes through 2020, the process would become much more difficult due to the coming presidential election.