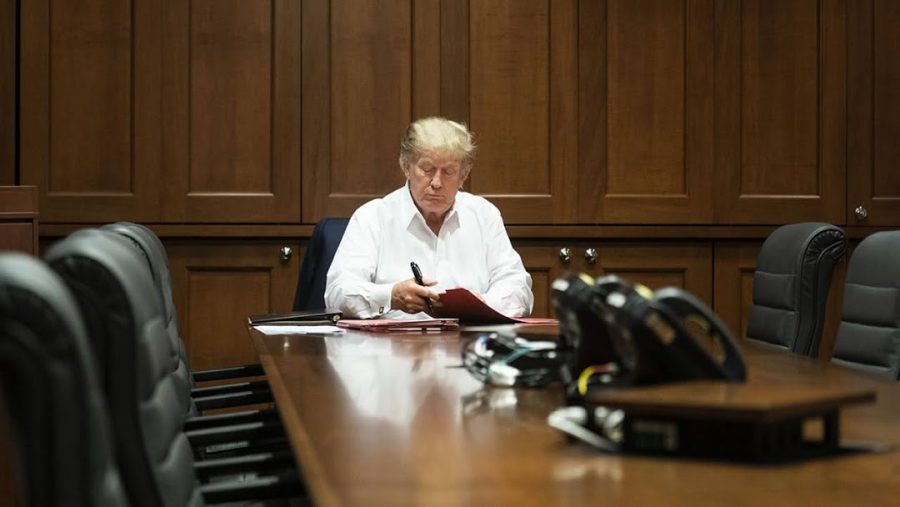 Joyce N. Boghosian
This past Friday, President Donald Trump tweeted out that he and First Lady Melania Trump had tested positive for Covid-19. Sophomore Jack Murtagh believes that "it was not a matter of if but when, considering the way he was handling the pandemic." That same night, the president released a video announcing he would be going to Walter Reed Medical Center for treatment. President Trump is believed to have gotten the virus from Hope Hicks, one of his closest advisors.
The morning after President Trump's announcement, White House physician Dr. Conley reported that the president had a high fever with low oxygen saturation levels. Dr. Conley recommended that he use supplemental oxygen but the president was adamant that he did not need it.
After spending almost three days at Walter Reed Medical Center, President Trump returned to the White House on Monday morning. Dr. Conley predicts President Trump will be able to resume public engagement by Saturday, that day being his tenth and final day of quarantine. Sophomore Jackson Mcmanus believes that "President Trump is coming out of quarantine too early and should quarantine at least 14 days for the safety of other people".
President Trump was not the only one in the White House to test positive for Covid-19. There are now 34 confirmed cases of Covid-19 within the White House, with the head of White House security, Crede Bailey, being the only critically ill of those people.
Since contracting Covid-19, President Trump has made multiple controversial remarks. After recovering from the virus, the President told the American people, "Don't be afraid of COVID." This statement contradicts the guidelines given by both the CDC as well as the World Health Organization. Only a few days later, President Trump released a video on Twitter saying the deadly coronavirus is actually a "blessing." He then went on to make remarks about the amazing work that those at Regeneron have done to produce an experimental antibody cocktail. The pharmaceutical company based out of New York has shown progress in finding a cure for Covid-19. Once approved by the FDA, Regeneron plans of producing and distributing the drug as fast as possible.