President Biden's Inauguration: a New Era in America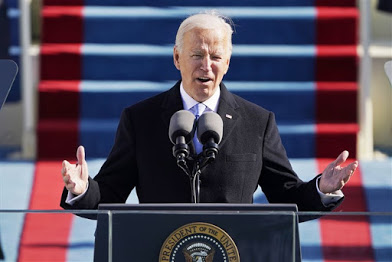 Millions of Americans watched from their homes as Joe Biden was sworn into office as the 46th President of the United States on a windy January 20th. The symbolic day initiated a new chapter in American history, one that brought hope to the millions who watched and served as a reminder of the importance of democracy, peace, and unity. 
The Presidential Inauguration is a tradition as old as America itself. Although it has evolved since George Washington's presidency, many elements remain the same. It consists of a procession to the capitol, the swearing-in ceremonies, an inaugural address delivered by the new president, an honorary departure of the former president, a signing ceremony, luncheon, and an inaugural parade to end the celebrations. Over the years, there have been slight variations to the swearing-in ceremonies of each president, and this year has been no different. Because of the coronavirus pandemic that has taken 400,000 lives over the past year, large crowds of Americans were not present at Joe Biden's inauguration. Additionally, in response to the riots at the Capitol on January 6th, there was an increased security presence at the inauguration, with over 25,000 National Guard troops present. The monumental inauguration managed to persevere regardless of these difficulties. 
At approximately 11:30 am, Kamala Harris was sworn into Office as the 46th Vice President of the United States. It was a historic moment because she is the first Black and South Asian woman to hold this position in Office. Her election has broken barriers and served as an inspiration to Americans, both young and old, across the country. 
Several musicians performed at the inauguration, including Jenifer Lopez singing "This Land is Your Land," Lady Gaga singing the "Star-Spangled Banner," and Garth Brooks performing a rendition of "Amazing Grace." After their performances, Inaugural Poet Amanda Gorman recited her powerful poem 'The Hill We Climb', which she had written a few weeks earlier. 
At noon, Joe Biden was sworn in as President of the United States. After being sworn in, President Biden delivered his Inaugural Address, where he focused on attempting to unify America after a year that has been marked by racial and political divisions, a pandemic, and an economic crisis. Sophomore Bayan Traiba says, "I thought that Biden's speech during the inauguration last Wednesday was very inspirational and it gave me a lot of hope for the future. I like how he brought up important issues such as coronavirus, and unemployment because it made me feel relieved that he is taking them seriously." Biden wasted no time in addressing these issues. On the day of his inauguration, he signed 20 executive actions to begin his course of action as president.  
After the Inaugural Address, the outgoing president would usually leave the Capitol. Because former President Trump chose to leave earlier in the morning, this part of the ceremony did not take place. 
After giving his Inaugural Address, newly sworn-in President Biden partook in a signing ceremony where he took the first official actions of his presidency. After that; an inaugural luncheon and a parade. Traditionally, thousands of Americans would attend the inaugural parade. However, in an attempt to limit the spread of coronavirus the parade was virtual this year.  
Biden's inauguration was a continuation of the peaceful transition of power that has defined America's democracy. The country was united and hopeful, despite the trying circumstances that have defined this past year. Sophomore Vivian Nguyen comments that "As I watched President Biden swear his oath, I felt a lot of hope and relief for the future. Biden's inaugural speech was very uplifting and felt like he was truly speaking from the heart. He spoke to the people of America, not just to the people who voted for him, which differs greatly from the previous administration. I have high expectations and hopes for President Biden's future plans and actions."