Biden's First Week as President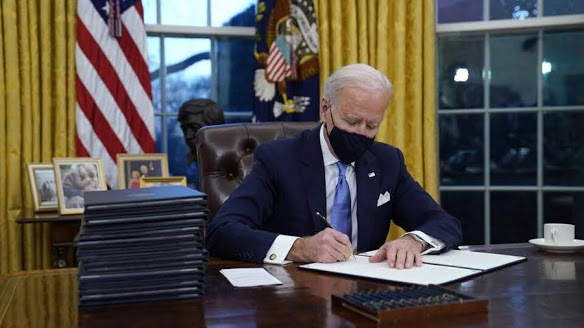 Only a week into his presidency, President Joe Biden has already signed over 30 executive orders. These orders have addressed climate change, the ongoing Covid-19 pandemic, and Trump's former policies, among many other things. President Biden also spoke with foreign leaders like Boris Johnson, the Prime Minister of the United Kingdom, in order to achieve unity and tackle the issue of the Covid-19 pandemic.
Biden made it clear throughout his campaign that climate change would be an issue that he would address immediately. Keeping to his word, President Biden signed multiple executive orders on Wednesday to combat climate change. On his first day in office, Biden rejoined the Paris climate accord. GOP party members have been outspokenly against Biden's policies as they see them as too expensive. Last week, Biden also signed an order to stop construction on the Keystone XL Pipeline. "We're screwing our children, grandchildren, all future generations if we think we can use those unconventional fossil fuels." says Dr. James Hansen. The pipeline cut through multiple animal reserves, further contributing to the global warming issue within our world. Sophomore Theo Grossman says he is "really excited for the changes" in the coming weeks.
Biden also made multiple executive orders pertaining to the economy. Biden launched a $700 billion initiative to "Buy American." This campaign encourages federal agencies to buy American made products, further supporting and contributing to the rise of America's economy. Sophomore Nick Germain thinks "it will be good for America's economy." 
Furthermore, President Biden has signed multiple executive orders in order to strengthen Covid-19 protocols within the United States. President Biden issued a national mask mandate across all government facilities. This means masks must be worn at all times on all government property. Many GOP members have also stood against Biden's Covid-19 policies. In return Biden said, "This isn't about politics. It's about saving lives." Biden has also promised to increase vaccine access by creating new community centers and ramping up distribution. His goal: to have 100 million Americans vaccinated within his first 100 days.