Hingham Swim Team Finishes the Season Strong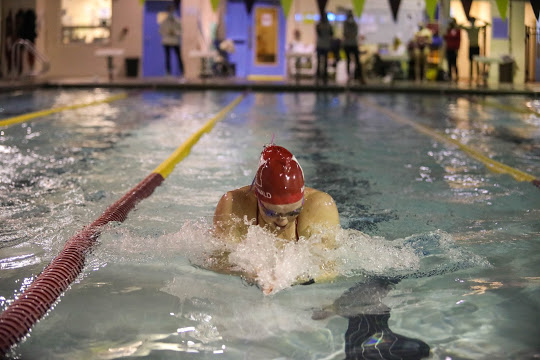 With the coronavirus still at risk in our community, this was no doubt one of the craziest sports seasons on record. Arguably the most affected team was the swim team, with a different practice schedule, precautions around the pool deck, and meet restrictions. All of the team's matches against other schools were held remotely from the other schools at their own practice facility. Additionally, in order to maintain the 40 person pool limit, practices had to be split up into three groups, and parents weren't allowed to cheer on their swimmers during meets.
These dynamics made the swim season a new and different experience for both new and returning teammates. Senior Captain PJ Harrington commemorated the adversity the team overcame this season, mentioning, "Organizing everything around pandemic-related was challenging but Coach Kait McDonough, Coach Kara McInnis, the other four captains, Nolan, Ian, Cate, MK, and I worked really hard to make it work, and it worked better than we could have hoped."
At the end of the season, the boys pulled together a 9 and 1 record, and the girls a 7 and 3 record. Swimmers Ian Strehle, Ava Burnham, Liv Cataldo, Steven McDougall, Nolan Doherty, and others consistently produced high-level performances that elevated the team and qualified them for the Patriot League end of season meet. The team streamed many of their achievements on Youtube, so click here for swims throughout the season.
Senior captain Cate MacDonald also thanked the team for their dedication towards the excellent season, "I am really impressed and proud of the team for taking on the challenges that this season threw at us. Everyone put their all into every practice and meet and it really paid off. Leading the group alongside the other 16 seniors was so fun. The class of 2021 is well represented on the swim team and we were so lucky to be able to practice together every day (even if it was socially distant). Although it's tough to be leaving this incredible group of people I am in no doubt that we are leaving the team in good hands to our hardworking juniors. I can't wait to see what they do!"