Congressman Ron Wright Dies of COVID-19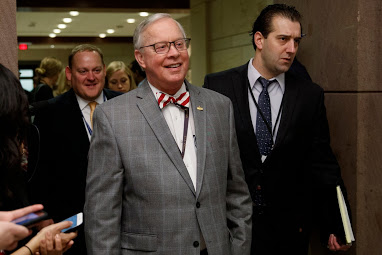 Representative Ron Wright has died after battling COVID-19, after contracting the virus on January 21, when he and members of his camp became exposed to the virus. The Republican representative from Texas is the first member of the legislative branches of the United States Government to die from complications of the disease (it has not been stated if COVID-10 was the direct cause). Wright was 67 years old and had previously been hospitalized for complications surrounding his lung cancer in October, making him extremely vulnerable to the respiratory disease, as lung cancer and other conditions increased the mortality rate greatly. Age also was a factor. 
Wright had been a public servant for around 20 years, sitting on the city council of Arlington Texas, before moving on to a tax collector and eventually to serving under the former Representative from his country, until winning an election in 2018 to become a Congressman. Wright was elected to Congress with promises to represent his votes in Washington, saying "I won't give in to the 'swamp.'"
Wright is survived by his wife, also in the hospital fighting the virus, three children, and nine grandchildren. When asked about the Congressman, sophomore Jack Murtagh responded "It's sad how he was the first Congressman to die of it, and terrible how he had it for so long before dying."
Speaker of the House Rep. Nancy Pelosi, a Democrat from California, also gave condolences to the Congressmen and his family, while also remembering the 460,000 other Americans who have lost their lives to the pandemic. Similarly, when asked about the congressman, freshmen Dylan Kadish responded "(His death) is tragic but the country is still in the middle of a pandemic and more people are going to die." Hopefully with the roll out of vaccines there will not be many more, but Wright's death serves as a grim reminder that this virus is deadly and that precautions must be taken to stop it.
Wright is remembered favorably by his Republican colleagues such as Rep. Rodger Williams of Texas, who said, "We'll all miss his his signature bowtie and warm personality in the halls of the Capitol, a presence that cannot soon be replaced."
On the topic of replacement, it is too early to start thinking about it according to the Sheriff of Tarrant county Bill Waybourn, who said "I am asking everyone on behalf of Congressman Wright's family to refrain from speculating on who might replace such an amazing man."