Celebrating Valentine's Day in a Pandemic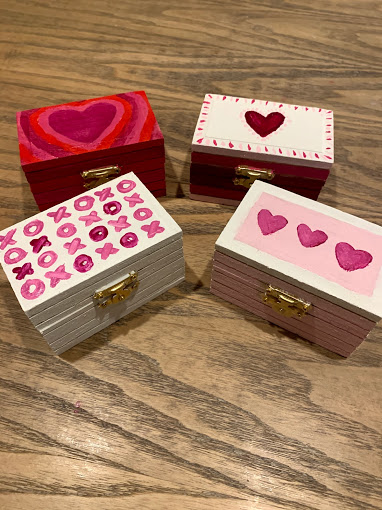 While the pandemic hinders usual Valentine's Day activities such as swapping candy hearts or gifting cards to classmates and loved ones, there remain opportunities to spread love without spreading germs. COVID-19 calls for creative ideas to celebrate the holiday while staying healthy.
Acts of kindness toward others are increasingly valued in the isolating circumstances of the pandemic. An excellent opportunity to spread joy during the upcoming holiday is reaching out to community organizations with Valentine's Day cards. Hingham High School sophomore Lauren Grady shares that she wrote a "little Valentine's Day note to the kids at St. Jude Children's Hospital." Amidst the craziness of the year, Lauren says "it felt nice to give to others for the holiday." Along with St. Jude in Boston, there are plenty of other organizations such as Love For Our Elders and "Valentines for Veterans," open to positive messages to brighten people's days. 
Local organizations are also available to spread love in a time of social separation. Sophomore Ryan Adams plans to collaborate with the 4-H club, an organization that provides community service opportunities, in delivering valentines to Bridges by EPOCH. On contributing to the local assisted living facility, Ryan says, "We're trying to spread positivity and reach out to people who cannot have any visitors because of the pandemic." Lauren Grady and Ryan Adams alike prove that opportunities to express generosity and kindness remain despite limitations of in-person interaction.
Even closer to home, dropping off cards or wrapped candies in the mailboxes of neighbors are simple and effective ways to spread joy this Sunday. Other festive activities include trying out new recipes for heart-shaped sweets or other candies, and crafting heart-themed gifts for loved ones. Testing one's cooking skills with treats such as berry heart parfaits, chocolate peanut butter cups, and heart-shaped waffles provides hours of fun on the holiday. 
A continuation of a common past-time of quarantine, one can enjoy a cozy movie night with family or game night. A setting of many romantic comedies and dramas, Valentine's Day reminds viewers that love is in the air even in a pandemic. Hingham offers a decorative downtown with vintage valentine puzzles at the Hingham Historical Society as well.
Social isolation and the modern difficulties of the pandemic amplify the necessity of reaching out to loved ones and close friends. The tiniest acts of appreciation and kindness extend a long way to those in need. Be sure to enjoy Valentine's Day and stay safe!