Hideki Matsuyama Enters the Golf Spotlight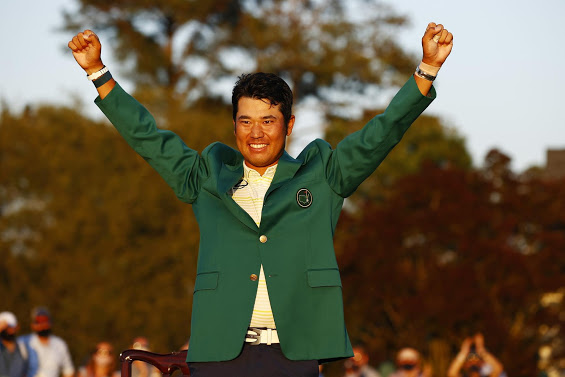 Augusta National Golf Club hosted the 85th Masters tournament this past Sunday, April 11, marking Hideki Matsuyama's ascension into golf history. Matsuyama became the first-ever Asian-born champion and the first Japanese man to win a major golf championship. The win guarantees Matsuyama's status as a national hero of Japan, fulfilling long-held ambition for a country with the world's second-largest number of golf courses and players.
Hideki Matsuyama, 39, finished the tournament at ten under par, one stroke ahead of the 24-year-old runner-up, Will Zaratoris.
Often measuring itself to standards of the United States and European success, golf resonates in Japan as a sport of the Western political and business elite: a gauge of Japan's global standing. Despite being the world's third-largest economy, Japan lacks confidence in its power relative to other major countries. The country's aspiration for international recognition results in added pressure upon major-league athletes extending beyond the realm of play. 
While COVID-19 constraints prevent an influx of media coverage at the tournament, Japan news often bears down on international athletes; even the most modest appearances can make headlines. Television stations in the country often broadcast obscure events hoping to catch a glimpse at the participation of a Japanese athlete. Before Matsuyama attended the Masters, extensive news organizations trailed athletes such as Ichiro Suzuki of the Seattle Mariners. Japanese reporters established bureaus in Washington exclusive to Suzuki and his baseball career. 
Matsuyama's win marked a breakthrough for Japan, a producer of top-tier players such as Isao Aoki and Masashi Ozaki but; until now, only two champions in major tournaments; female players Hisako Higuchi of the 1977 L.P.G.A. Championship and Hinako Shibuno in the 2019 Women's British Open. Earlier this month, Tsubasa Kajitani won the second-ever amateur women's competition at Augusta National. 
Matsuyama's skill with a club was established in his hometown on the southern island of Shikoku, learning under his father since age four. He excelled throughout his teenage years, becoming the highest-placed amateur at the Masters in 2011. By 2017, Hideki Matsuyama had six PGA wins under his belt and ranked second worldwide and the highest in history for a Japanese male golfer.
The Masters victory signifies an end to Matsuyama's recent slump of losing his nerve under pressure and a faltering short game. Throughout his career, Hideki Matsuyama accumulated a reputation as a diligent and private player. Relative to the massive endorsements and media promotions by other players at his level, Matsuyama maintains a low profile. Mutsayama shocked the media by announcing his wife's birth in 2017. Few knew of the couple's marriage.
Hideki Matsuyama's reserved and impressive game transcended to his reaction to the win, almost unnoticeable compared to other golfers in his position. HHS sophomore and golfer Emily Cusano shared that she thinks that "It's amazing that Hideki won being the first Japanese player to win and what I particularly like about him winning is how humble he is about it." She continued, "He is just so genuinely happy and sweet about his win." 
Another sophomore, Kat Vanbuskirk, was "Overjoyed to see the images of his win. I think that it is just the good news that is needed during the pandemic to see the joy that comes with the sport."
Hideki shared his sentiments immediately after leaving the 18th green on Sunday with the New York Times, acknowledging, "I really wasn't thinking anything, then it started to sink in, the joy of being a Masters champion. I can't imagine what it's going to be like, but what a thrill and honor it will be for me to take the green jacket back to Japan."
The win will undoubtedly propel the timid player into the world stage, bringing home glory to his country as many sports analysts speculate a resurgence in the game in Japan after Matsuyama's success. The upcoming Tokyo Olympics this summer place further hopes upon Hideki Matsuyama to win the gold medal in golf.