Earth Day 2021: Hingham's Efforts to Counteract Climate Change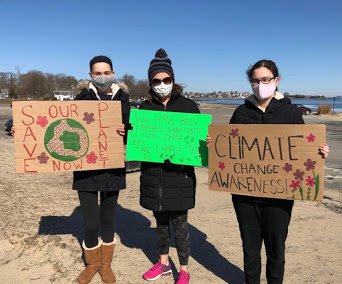 According to this article from Global Giving, local, community-led efforts to fight climate change are underfunded and overlooked. This extends to our own community here in Hingham: although Hingham's current environmental policy does exist, it lacks true motive for change. However, steps are being taken to change this. 
In April, 2019, Hingham joined 120 other communities in eliminating single-use plastic bags. Since then, town residents have grown even more vocal about their devotion to the environment: membership in the organization Hingham Net Zero has taken off within the past year. According to their website, Hingham Net Zero's goals are to "raise awareness of the need for climate action, support the Town's efforts to cut emissions, and work to reduce carbon emissions across our town as quickly as possible." The organization was founded in 2019 by Turner Bledsoe, John Borger and former Select Board member Laura Burns. Its main purpose is encouraging the establishment of a Town climate action plan. They organize various protests, called "Community Stand-outs," at places like the Bathing Beach and Jackass Park. This morning, on May 1, there was a standout at Hingham High.
Helen Kahn, a junior at Hingham High, is a participant in many of these climate standouts, and is passionate about protecting the environment and resisting climate change. Asked how it feels to participate in a local movement for something she cares about, she responds, "It makes me feel good to be taking some kind of action since climate change is so scary. Also, local action is a great place to start when trying to create change." 
Her support for environmental change is similar to the opinions of other students at Hingham High. Many have never heard of Hingham Net Zero, but their concern for climate change leads to questions about how to get more people involved in organizations like this. Junior Charlotte Andrews says, "I love the earth! I think it's great that people are fighting for a greener future here in Hingham." Additionally, junior Alex Denning adds that she does "believe local climate action is important, because anywhere we can make steps in the right direction is good."
Our school's Green Team has a similar plan to that of Hingham Net Zero, but on a smaller scale, with the school community being the focus. The club is thriving, with around 50 members and successful efforts at making the school environmentally friendly. Vice President of the club, senior Pria Parker, says she is "thrilled with all of the recent environmental action!" She then asserts that "Grassroots organizations are really the catalyst for climate action, so it's really great that Hingham citizens are taking action." Parker participates in Hingham Net Zero, and feels lucky to be helping them in their campaign for a climate action plan: "this action plan is vital for Hingham to become more sustainable, but it also sets a precedent for surrounding areas and even in the state." She also urges everyone 18 or older to vote in favor the Climate Action Plan (CAP) at the town meeting on May 8th. 
The annual meeting will deal with numerous articles, including two focused on the town's climate policy. Article 13 suggests whether or not the town should use its funds to support the establishment of the CAP. However, the Advisory Committee recommends that voters vote "no" on this article, because since the time of the article's proposal, the Hingham Municipal Lighting Plant Board has voted to fully fund the cost of developing the CAP. As the 2021 Annual Town Meeting Warrant Articles state, "there is no need for the appropriation of Town funds and No Action is recommended on Article 13." 
However, the other article, Article 14, is essential to the future of the Hingham environmental movement. This suggests the establishment of a "Climate Action Plan with such committee consisting of 12 members determined as follows: one member of the Energy Action Committee, who shall serve as Chair of the Climate Action Planning Committee; one member of Cleaner Greener Hingham, one member of the School Committee or its designee; one member of the Hingham Municipal Light Plant; one member of the Planning Board or its designee; one member of the Conservation Commission; one member of the Weir River Estuary Park Committee; one member of the Development & Industrial Commission, and four residents." For the four residents, two would be selected by the Board of Selectmen and two would be selected by the Moderator. The rest of the members would be selected by their respective committees. 
Both the Advisory Committee and the Board of Selectmen voted unanimously in support of this article. If Hinghamites too vote in favor of Article 14, the establishment of a Climate Action Plan will hopefully lead to a brighter, and greener, future for our town.