Did Anyone Watch The Oscars 2021?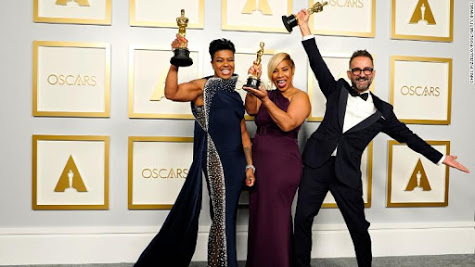 The 93rd Academy Awards was televised last Sunday, April 25th. The awards show was held at Union Station in Los Angeles and at the Dolby Theatre. There was no host for the show, and there has not been a host for The Oscars since the 2018 show. 
Viewership reached an all time low this year, as the Oscars were watched by only 9.85 million people. Of the 9.85 million people, only 1.9 million were between the ages of 18 and 49. Last year's show had around 23.6 million viewers. Why were the viewings so low this year? Junior Elizabeth Murphy explains, "Usually my family and I vote for each category and the winner gets a prize, but this year we unfortunately didn't get to do that because either none of the movies looked entertaining or I didn't even know what they were." Elizabeth's sentiments are shared by many students at Hingham High School. I asked many students about The Oscars, and most had not bothered to watch or had not even heard of a lot of the movies up for nominations. 
In the past, The Oscars have been criticized for the lack of diversity with nominees and winners. The academy has worked to diversify its membership ever since the #OscarsSoWhite movement grew popular during 2015 and 2016, when all twenty of the nominees were white. This year, both behind the camera, and in front of the camera, more women and people of color were nominated for and won awards. 
For the first time, two women were nominated for best director. For their work in "Ma Rainey's Black Bottom", Mia Neal and Jamika Wilson became the first Black stylists to win for best makeup and hairstyling. Chloé Zhao became the first woman of color to win best director for "Nomadland". "Nomadland" also picked up several other awards that night, as it won best picture and star Frances McDormand won for best actress in a leading role. Daniel Kaluuya won one of the coveted golden statues for best actor in a supporting role in "Judas and the Black Messiah" 
Despite these wins, some believe that because of the few movies produced this was only a Covid-19 anomaly. Hopefully it is not, and The Academy continues to work on diversifying The Oscars. Many were disappointed that Chadwick Boseman and Viola Davis did not win best actor for "Ma Rainey's Black Bottom." Instead the awards went to Frances McDormand for "Nomadland" and Anthony Hopkins for "The Father". 
Many believed that the late Chadwick Boseman was snubbed for not winning but his family does not agree. His brother Derrick spoke to TMZ and explained that his brother never put too much value on these awards anyways and that there are no hard feelings. Michael B. Jordan, who had worked with Boseman in the past, even commented by telling The Hollywood Report, "There's no award that can validate his legacy. There's no win that can take anything away from the lives around the world that he impacted." Although many expected and wanted Boseman to win his first Oscar, his brother and Michael B. Jordan made it clear that the award in reality does not mean a lot compared to Boseman and the impact he had on others. 
Covid-19 and the pandemic have clearly had a huge impact on the Oscars this year. There were less movies produced than usual and viewings of the Oscars decreased greatly. Junior Devin Sampson comments on the impact Covid-19 had on movies this year as she explained, "I didn't watch any of The Oscars because of Covid-19 there weren't any that caught my attention or any that I felt like deserved higher recognition." Like Elizabeth, Devin did also not watch The Oscars. Covid-19 has changed a lot as the pandemic continues, and the Oscars was no exception.