Winner and Losers of the 2021 NFL Draft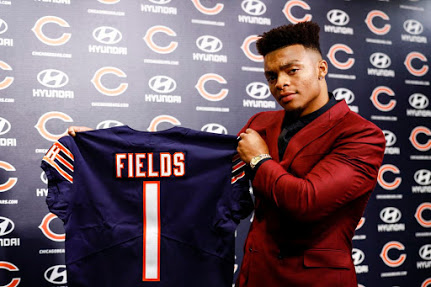 Following a virtual draft during April of last year because of Covid-19, the National Football League successfully held an outstanding presentation of this year's draft in Cleveland, Ohio last week. In my opinion, this year's draft class was filled with loads of unique talent, one of the best groups of players to come out of college in years, making this one of the most highly anticipated NFL drafts in years, especially with the lack of an in-person draft last year. HHS sophomore Sam Peacock said, "There are so many talented players in the draft, especially the quarterbacks." At this point in the NFL offseason, there are usually several holes or a sense of uncertainty at some positions on a specific team's roster. However, the NFL draft provides a group of young athletes who are always eager to compete at the next level. So, without further ado, here is a look at which teams filled their needs and which teams did not, or in other words: the winners and losers of this year's draft.
Winner – Carolina Panthers
Carolina entered the draft in an awkward position. Sitting at pick number eight, the Panthers had the opportunity to take quarterbacks Mac Jones or Justin Fields. However, Carolina put their trust in newly acquired quarterback Sam Darnold, who is yet to prove himself since being a 2018 first-round pick but will get an opportunity to do that now with the Panthers. Instead, the Panthers selected cornerback Jaycee Horn from South Carolina who had been rapidly rising up draft boards after an impressive pro day. Horn is a very physical cornerback with great ball instincts that now pairs alongside a speedy young cornerback in Carolina, Donte Jackson. The Panthers also reunited their 2nd round pick, Terrace Marshall Jr., with his former offensive coordinator at LSU, Joe Brady, who is now the Panthers offensive coordinator. Marshall is another very physical player as he stands 6'3'' and weighs over 200 pounds. Marshall can now work as another offensive weapon for quarterback Sam Darnold. The Panthers chose to protect their quarterback in the next round by selecting offensive tackle Brady Christenson, a huge, strong, and agile lineman from BYU. I also loved the pick of defensive tackle Daivyon Nixon out of Iowa. In my opinion, Nixon is a top-three defensive tackle in the draft and Carolina was able to select him in the 5th round, so this is a great value pick. Some other picks that I enjoyed were the selections of tight end Tommy Tremble and running back Chuba Hubbard. Tremble fills a position of need and Hubbard is a speedy runner with an advanced vision for a running back. Overall, I believe that first-year general manager Scott Fitterer did an excellent job in his first NFL draft and with these selections, Carolina is guaranteed to improve this season. 
Loser – Houston Texans 
Wow! What a rollercoaster ride has this offseason been for the Houston Texans. Houston's franchise quarterback Deshaun Watson has begged the team to trade him, but Houston is unwilling to fulfill his request. More recently, Watson has been accused of sexual misconduct in lawsuits filed by 22 women. Because of all of this drama, there have been reports around the league that Watson will likely sit out next season. After a rough 4-12 season last year, the team experienced some personnel changes in the front office with new general manager Nick Caserio and new head coach David Culley. In most cases, when a team performs as poorly as the Texans did last season, at least they will be rewarded with a high draft pick next year. However, the Texans traded away both of their first and second-round picks in a trade involving left tackle Laremy Tunsil during August of 2019. As a result, first-year general manager Nick Caserio was put in an extremely difficult position entering the draft as Houston did not pick until 67th overall. With the 67th overall pick, Houston selected quarterback Davis Mills from Stanford, clearly preparing for a future without Deshaun Watson. Mills is a solid pocket passer who shows great flashes of potential, but they are few and far apart. Also, the Texans already added two new quarterbacks in Tyrod Taylor and Ryan Finley this offseason, so a third new quarterback doesn't make any sense here. Overall, I simply do not think that Mills is an NFL-ready quarterback and with a loaded quarterback room and many other needs on the roster, the Texans could have done a lot more with their first pick in the draft. Houston wasted a chance at more draft capital by trading up for wide receiver Nico Collins later that round. Collins is a great blend of size and speed on the outside, but with glaring holes on the defense and some talented defenders on the board, the decision to trade up doesn't make any sense to me. The only pick that I liked was the selection of tight end Brevin Jordan who despite being expected to be picked in the late second or early third round, fell to Houston in the fifth round. However, the Texans entered the draft with gaping holes at many positions, so losing draft picks by trading up was not a good decision and I do not agree with many of their selections. 
Winner – Chicago Bears
After an appearance in the playoffs last season, Chicago seemed to be on the decline this offseason as they lost star cornerback Kyle Fuller, quarterback Mitch Trubisky, wide receiver/running back Cordarelle Patterson, and others. The Bears also experienced a very underwhelming free agency with the only notable signing being veteran quarterback Andy Dalton who agreed to a one-year deal. With the loss of former quarterback Mitch Trubisky, Bears fans expected a huge upgrade at the position as the free-agent quarterback market was filled with loads of talent this offseason. Chicago was also a rumored landing spot for quarterback Russell Wilson who requested a trade this offseason. Instead, the Bears settled for Andy Dalton. Although Dalton is entering his 10th year in the league, he is yet to win a playoff game, and the 33-year-old veteran now seems to be well past his prime playing days. Following some disappointing seasons in recent years, general manager Ryan Pace and head coach Matt Nagy were rumored to be on the hot seat. Then, following a disappointing start to the offseason. Chicago needed to make a splash in the draft, but that was hard to do considering they held the 20th pick in the draft. Once the quarterbacks fell out of the top ten, Ryan Pace made his move by trading up to the 11th pick to select Justin Fields from Ohio State. HMS student Will Carr believes, "Justin Fields is definitely the second-best quarterback in the draft." Fields is athletic, mobile in the pocket, accurate, and has a huge arm. This pick felt like the missing piece of the puzzle for Chicago. For one of the most boring offenses to watch last year, they needed a playmaker, and Fields is the right guy. The Bears also selected offensive tackle Teven Jenkins early in the second round, a great value pick at a position of need. Jenkins is a powerful run-blocker who can play at either tackle or guard at the next level. I also enjoyed the selection of wide receiver Dazz Newsome in the sixth round, another great value pick, who can hopefully provide a long-term receiving threat for new QB Justin Fields.