Springham Concert Series Comes to Hingham Again
Each weekend since April 24th, the Hingham Heritage Museum has served as a hub of music and festivities during the transition into the new normal of the pandemic. Springham is a six week concert series at the Hingham Heritage Museum sponsored by the Hingham Historical Society and designed to get the community downtown.
Executive Director of the Hingham Historical Society, Deirdre Anderson, told the Harborlight that "after a long year of isolation during the pandemic, we wanted to offer the community a chance to come together." The Society set up a stage under their flagpole at the Hingham Heritage Museum and have worked to create a festival atmosphere. In addition to different individual performers and bands who were crowdsourced using social media, Springham features a different food truck each week and information tables from community partners.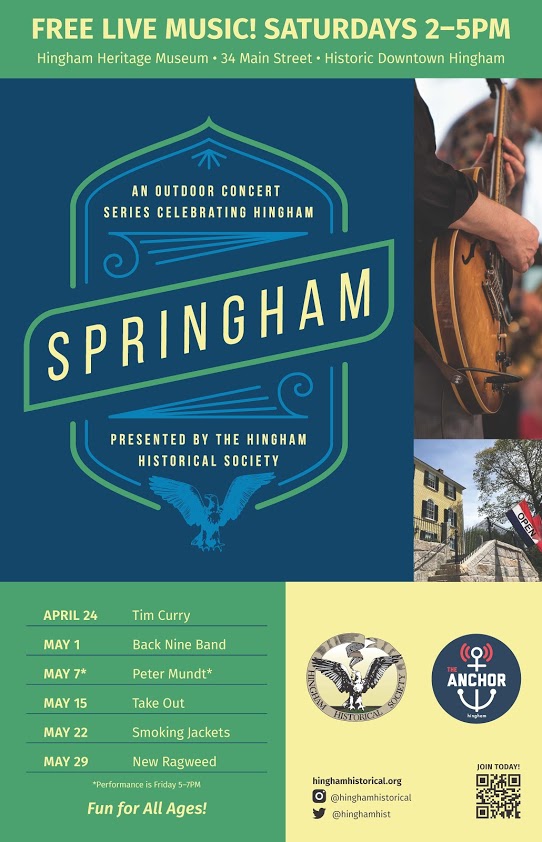 Sophomore at Hingham High School, Jill McNamara, shares that "It's been really fun to see the crowds downtown, I live nearby and I love hearing the music on the weekends." Jill and many other downtown residents have stopped by the Hingham Heritage Museum to enjoy the presence of others and live music.
While working at the membership table during Springham, senior Julia Burm says that "it was so great to see the community involved in a safe and fun event for the first time in a while!" She continues, "being together with the community was an amazing feeling. People were engaged with the Historical Society's exhibits, which is one of my favorite things to see, because they are really well thought out."
The Hingham Historical Society hopes that by drawing people to the Hingham Heritage Museum, which features a new exhibition on 20th century artists Louis and Beatrice Baxter Ruyl, they will increase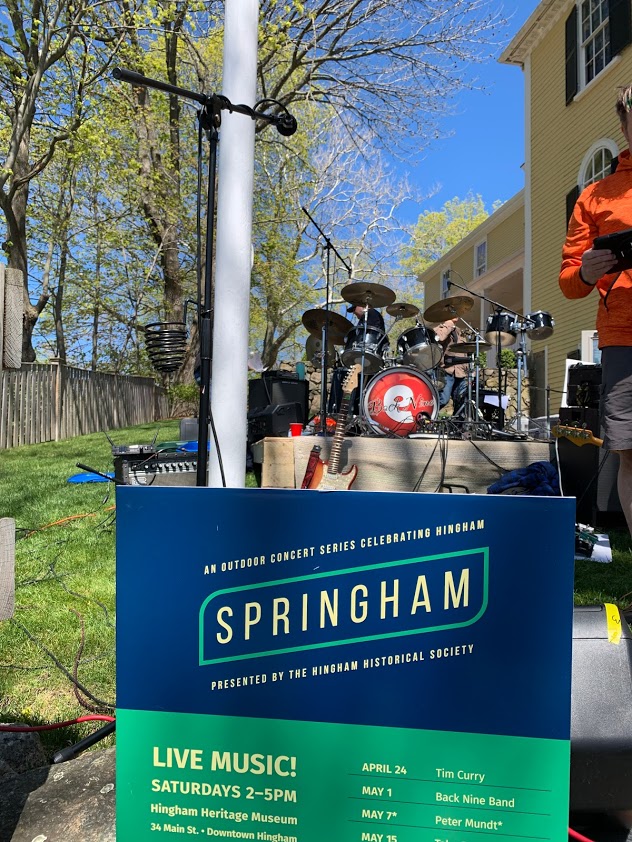 interest and ultimately membership.
"We are a member and donor supported non-profit," said Anderson. "A lot of people assume we are part of the Town of Hingham government but we are not. We hope with more people coming downtown to enjoy live music and learn about what we do in the big yellow building on the hill, people will want to support us with membership."  Performers are from Hingham or the greater South Shore including Tim Curry, Peter Mundt and the bands; Back Nine, Take Out, Smoking Jackets and New Ragweed. Many of the bands feature Hingham parents who play music part-time and have not performed live since winter of 2020.  This weekend's band, Take Out, features Hingham residents Robin Haynes Teague and Matt Teague. The Waffle Truck will cater to attendees of Springham this weekend. Springham concerts are 2pm to 5pm on Saturdays through Memorial Day Weekend.