It's Back! Hingham Weekend Ferry Service Returns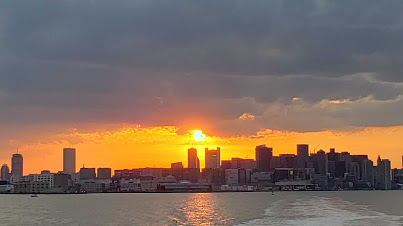 As yet another positive sign that the other side of the pandemic is here, the MBTA Announced that the weekend Ferry service will return to the South Shore starting May 22, 2021. The return of weekend service is a welcome sign by Hingham High students. "One of my favorite parts of living here is the quick and easy access to Boston," Exclaimed Chris Rull, HHS Class of 2023. "The Ferry is such a peaceful and convenient way to enjoy a day trip to Boston, especially in the warm months. I'm so glad the MBTA did the right thing and restored service for us on the South Shore," Agreed Hingham Shipyard resident Elly Papile. Earlier this year, in the height of the pandemic, service of any kind by ferry was at high risk as the MBTA contemplated cuts across many lines due to low ridership. 
In January, the MBTA made some cuts across several commuter lines in response to financial concerns, a pattern of low ridership, and a lack of clarity on when the pandemic would wane. At this time, more long-term cuts for Ferry service, among a variety of other options were on the table for consideration. When the news of possible long-term or permanent cuts reached Hingham residents and representatives, many organized and effectively conveyed the importance of the ferry to Hingham and surrounding communities. Through organizers of www.savetheferry.org, public opinion and support for the Ferry reached critical mass, making it clear to MBTA officials that cutting service to residents would not go quietly into the night, or without a fight. Fortunately, on March 29th, the MBTA Fiscal and Management Control board voted to restore service in Spring 2021 with aid from the federal government. 
With the many restrictions lifting throughout the city, the timing could not be better. Weekend excursions to museums, Boston Common, and the North End are a summer favorite of Hingham High school students. "I can't wait to take the boat over to the North End to finally get some Chicken Parm from my favorite place. It's been way too long!" Exclaimed Luke O'Connell, a 3rd grader at Foster Elementary. Many share Luke's sentiment and look forward to the beautiful sunsets of the Boston skyline on this South Shore commuting treasure. While many restrictions across the state have lifted, riders must continue to wear masks while on the ferry, whether inside or out. To learn more about the new Spring MBTA Ferry Schedule, visit https://www.mbta.com/schedules/Boat-F1/line. 
Photo: https://photos.app.goo.gl/ZswoKY8Nhc4LpjL8A