Hingham Boys Tennis Beats Rival Plymouth North in a 3-2 Victory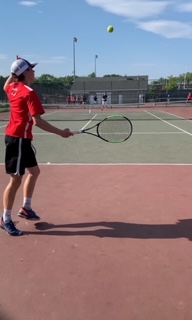 Wednesday, May 26, the Hingham boy's tennis team faced off against their close rivals, Plymouth North, coming out on top with a 3-2 win over the Eagles. After a tough loss to Duxbury on Monday, the Hingham boys rallied to put up a good win against Plymouth. This win and one more win against Silver Lake on Thursday closed out the regular season with an 8-2 record for the Harbormen. 
The Hingham lineup for the Plymouth-North match consisted of Jack Price, Travis Rugg, Thomas Fabrizio, doubles pair Dominic Kanter and Charlie Donahue, and pair John Sherwood and Ian Strehle. The lineup has been changed quite a bit recently with Freshman Travis Rugg
moving up from being the fifth singles position for Hingham to the second position in just one week. This led to Dominic Kanter and Charlie Donahue, previously singles players, joining forces to become Hingham's new first doubles pair. Hingham World History teacher, Mr. George, watched Dominic and Charlie's match intently as his son was part of the doubles team challenging them.
Starting next week the tennis team will begin competing in the Patriot Cup, a league-wide tournament that will last about two weeks. The Hingham boys already have their sights set on winning a final match against Duxbury after losing twice to them in the regular season. As Coach Gill continues to tweak the starting lineup he hopes that this can make the difference and bring the team to victory.