Russia Invades Ukraine
On February 24, Russian president Vladimir Putin began what he called a "special military operation" in Ukraine, launching the start of a Russian invasion that is the largest military mobilization in Europe since World War II. Although shocking, the Russian invasion of Ukraine was not entirely unexpected. Though Putin denied plans to invade Ukraine until February, tensions between Ukraine and Russia have been steadily building for decades. 
Following the collapse of the Soviet Union in 1991, Ukraine became an independent country. Tensions between Russia and Ukraine never fully dissipated. Following its independence, Ukraine sought to strengthen ties with the West, and in 2008 discussed the possibility of joining NATO, a coalition of European and two North American countries. Russian President Vladimir Putin was displeased, and claimed that Ukraine joining NATO posed a security threat to Russia. By 2021 Russia began sending troops to the Ukraine-Russia border, leading many to believe that invasion was a possibility, although Putin denied it. Skepticism of Putin's denial of plans to invade was backed, for many, by the Russian use of force in its invasion of the Peninsula of Crimea in 2014. 
In early 2022, efforts to prevent conflict diplomatically increased, however they were unsuccessful, and the invasion began in late February. Since then, Russian forces have attacked Ukrainian cities, particularly it's capital of Kyiv, forcing millions from their homes and resulting in thousands of civilian casualties. The citizens of Ukraine have received support from around the world, including from students at HHS. Junior Sherry Sze commented, "In comparison to the 2014 Russian invasion of Crimea, there are numerous more Russian protests in Moscow which I think shows how many Russian citizens are actually opposed to the invasion of Ukraine. However, even with Russian voices speaking up against the unnecessary violence that Putin has ordered on Ukraine, he refuses to listen and continues to order his military to march towards Kyiv where millions of Ukrainian citizens are using subway stations as bomb shelters and finding any means of safety in a war zone." She continues, pensively, "He also promised not to attack or hurt innocent civilians and buildings, but he did not keep that promise at all. Instead, innocent Ukrainians have their homes, work places, and schools completely demolished." She ends with a powerful statement, "The deplorable and cruel attacks made on Ukraine by Putin are a disgrace and a direct attack against freedom."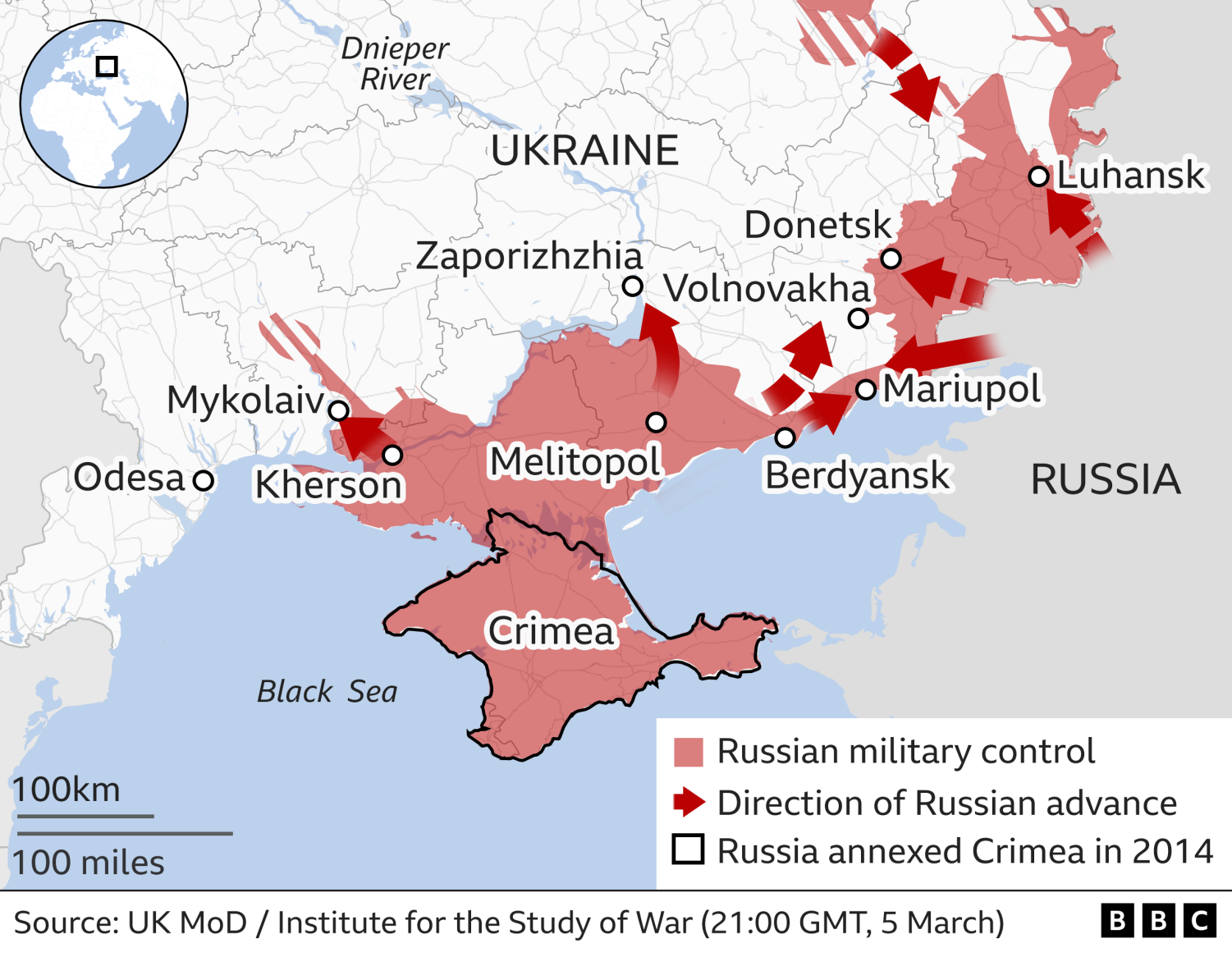 The war has received extensive media coverage, and this coverage has even extended to social media sites, like Instagram and TikTok. Many have voiced concern of the use of social media for sharing news, noting that it may facilitate the spread of misinformation. HHS junior Eliana Hobson remarked that, "the media coverage is interesting because scrolling through TikTok and seeing the news in the same space as everything else is crazy." Recently, TikTok said that it would suspend live-streaming and new content being uploaded from Russia. 
President Biden has also expressed support for Ukraine. Biden has explained that he will not send U.S. troops to fight in Ukraine, citing ties with NATO, saying that the U.S. is not obligated to respond and doing so would escalate the situation dramatically. However, he has sent support in the form of military weapons and training. The Biden Administration, as well as several other countries, have imposed sanctions on Russia, preventing the country from importing technology and other materials. 
In the United States, the Biden Administration has been working to mitigate any potential economic impacts, something which has been of increasing concern for many Americans.  
Though it seems that a diplomatic resolution is unlikely, the world has not lost hope for Ukraine. Live updates on the invasion can be found here.  Information on how to support the people of Ukraine can be found here.