Reflections on Hingham Drama's Fall Musical "The Music Man"
From December first through the fourth, Hingham High School Drama teamed up with Hingham Middle School in a performance of Meredith Willson's The Music Man. With four showings total, Thursday, Friday, and Saturday evenings with a Sunday matinee at the Hingham Middle School, the Hingham community showed up for the performance organized by the efforts of 80 high schoolers and middle schoolers.
The musical follows traveling conman Harold Hill, played by HHS junior Tim Bevens, as he visits River City, Iowa and convinces townspeople to buy uniforms and instruments to start a marching band. As soon as he receives the money, he plans on skipping town, but as he beings to fall for the local librarian Marian, played by HHS senior Bridget Foley, he grapples with the decision.
Overall, audiences of The Music Man adored the show. Senior Kerry Breen, who attended the Sunday matinee, shared with the Harborlight that "The Music Man was a wonderfully executed play and it beautifully complimented the original broadway production. Tim Bevens took on the role of Harold Hill like no other, and the rest of the cast couldn't have done a better job." 
The positive experience of viewers reinforces the hard work of the cast members, such as freshman Alec Whitmore. A long-time participant in Hingham community theater, Alec made his high school drama debut as Salesman in The Music Man, sharing that his "first experience in the Drama Club was meeting everyone at the Freshmen Picnic. Since day one I have felt a sense of belonging around everyone. I was able to perform and bond with everyone in the cast and crew and I wouldn't trade any of it."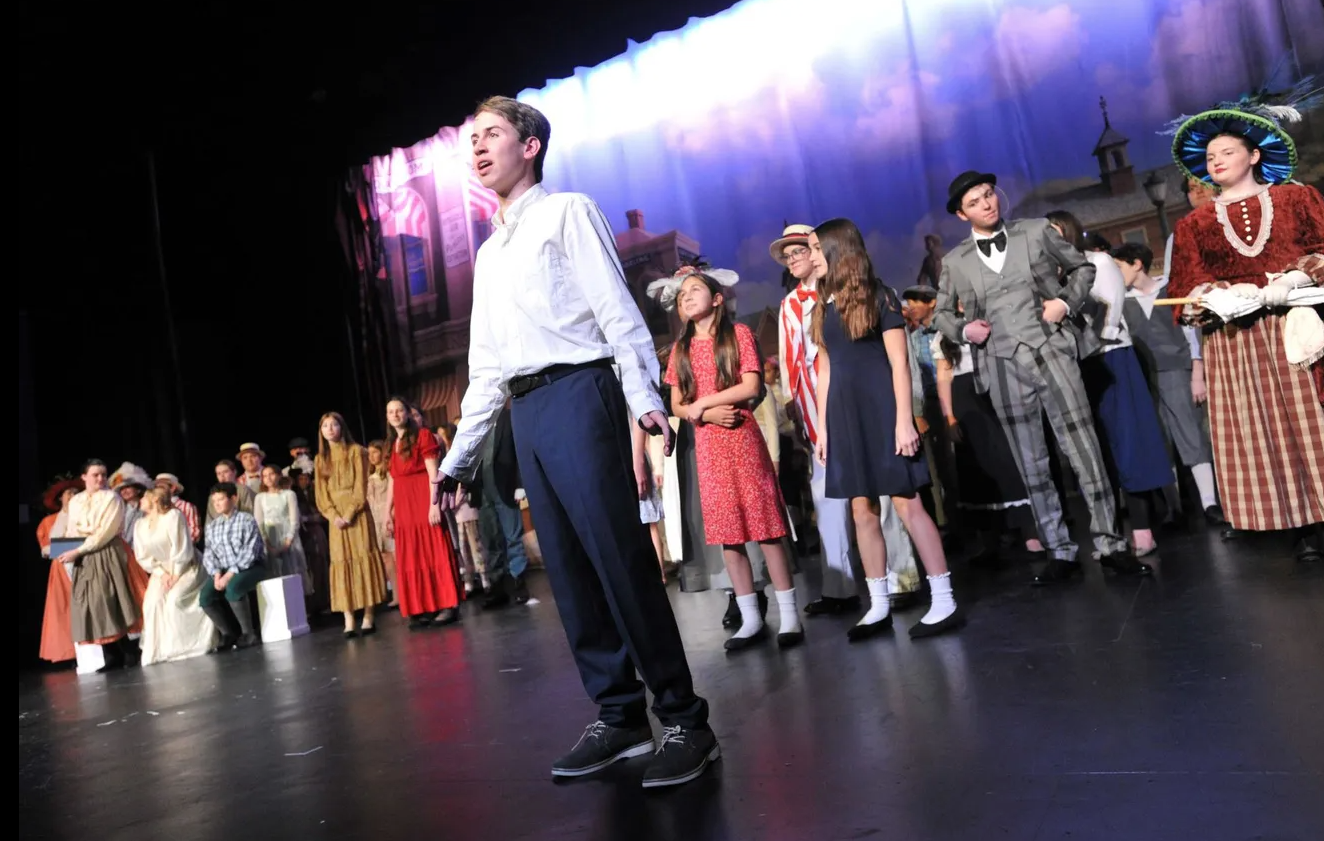 He continues, "There were so many memories and laughs we shared on and off stage. During rehearsals everyone just connected and laughed and had a good time. Some of my best memories come from outside of rehearsals bonding with others outside of just the show. The seniors especially have inspired and shown me how to be a better performer and person in general. There isn't a better cast and show I could have asked for."
Senior Grace Desai shares that she "was so impressed by the production, set design, and acting. It was cool to see my friends up on stage and how talented the entire cast was. The Opry cameo was amazing too." The Music Man offered a unique opportunity for both middle school and high school actors to combine forces to create a spectacular performance. Even the High School's safety dog, Opry, was able to have a moment in the spotlight.
After her final experience in an HHS musical, senior Bridget Foley shared that, "By far my favorite thing about being a part of this show has been how excited it made our community. Not only was everybody involved in the production extremely welcoming, kind, and ready to put on an amazing show, but the positive response from so many different groups and age ranges has made it even more special than I could've ever anticipated." Undoubtedly, The Music Man was the effort of many, from musical director Ms. Fish, the entirety of the Hingham High School Drama Club, and several middle school students to play in the marching band. Bridget offered a sentimental summary of her experience throughout the performance, stating that "To me, theater is something that brings community together, and I couldn't be happier to say that The Music Man proved how powerful it can be."