Killer Caught: Murders of Small-Town Moscow, Idaho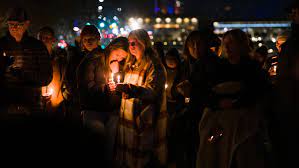 Eight weeks ago, four University of Idaho students Madison Mogen, 21; Kaylee Goncalves, 21; Xana Kernodle, 20; and Ethan Chapin, 20 returned home from a school party in the early hours of the morning. Two other roommates, whose names will not be disclosed, had returned to their off-campus residence earlier and had since gone to bed when the others arrived home. As night spread over the small town of Moscow, Idaho, four horrific stabbings resulted in the murders of these four students. This small-town crime quickly became an internet sensation, especially on the social media application TikTok. Online sleuths worldwide studied the series of events vigorously, attempting to uncover the killer. Food truck drivers, men in hoods, and even the two other roommates were shoved into the spotlight as suspects. No one could figure out who had done it. That is until an arrest was made against 23-year-old Brian Kohberger after his DNA matched that found on critical evidence. The arrest of Kohberger, a teaching assistant at a nearby college, shocked many.
Here's What We Know:
On November 3, the four roommates returned home around 2 am. But just an hour later, a suspicious white car was seen lurking about the area, passing the home of the students three to four times before it returned to the area at 4 am. Allegedly, several noises were heard from the house. Two statements from neighbors claimed that the heard screaming coming from their home. One was captured on a high-quality video and posted on the internet. Another statement was given by one of the roommates living on the upper floors, who said she heard a thud (which she assumed was the dog) and even claimed to hear crying coming from Xana Kernodle's room with a male voice whispering "It's OK, I'm going to help you."
The case confused law enforcement and detectives for a few weeks until one of the two surviving roommates came out with shocking evidence. She claimed that she had been hearing noises from one of the upstairs rooms, and when going to investigate, she witnessed a man clad in all black attire walk toward the sliding glass at the back of the house. The witness quickly locked herself back in her room. This alleged claim matched up with the times seen on street cameras as a white Elantra was seen speeding away from the house at around 4:20 am. Police were not summoned for another 7 hours until 11:00 am.
The only key piece of evidence discovered in the investigation from an early point was a knife sheath discovered next to the bed of Madison Mogen. Using the DNA they had extracted from the sheath, they then began running tests on potential suspects. An identical white Elantra was discovered at the nearby school, Washington State University, which was owned by Brain Kohberger. Kohberger had returned home to Pennsylvania (conveniently right after the murders took place) and was driving home with his father when pulled over to the side of the road by the local police force. He was soon arrested in a predawn raid on December 30 and extradited back to Idaho.
The situation has been a devastating loss to the community of Moscow, Idaho. All four students, Madison Mogen, Kaylee Goncalves, Xana Kernodle, and Ethan Chapin were described as a "sunshine group." Jake Schriger, Morgan Mogen's boyfriend, described her excitement for traveling the world as college soon would end, and stated, "There are no words that I can really describe her — how amazing she was and how wonderful of a person she was." These students all had lives ahead of them, with hopes and dreams that they should have accomplished. People across the country must keep Madison Mogen, Kaylee Goncalves, Xana Kernodle, and Ethan Chapin in their hearts as time progresses.