My Favorite Books of 2022
It is that time of year again! As I reflect on 2022, I am reminded of the wonderful, the less wonderful, and the perfectly adequate books that I read throughout the year. Unfortunately, I did not surpass my total tally of books read in 2021. But of the 22 books that I read in 2022, here are my favorites.
Persuasion by Jane Austen
Published: 1817
Genre: Romance
I have yet to read a Jane Austen novel that I do not like, but Persuasion has become one of my all-time favorite books. The story follows Anne Elliot, the least favorite daughter of a haughty Sir Walter Elliot, as she is faced with the possibility of a second chance with Captain Frederick Wentworth, her former love, who has returned from war wealthy and accomplished. Full of biting depictions of quirky family members, town-wide treatment of injuries (a bad fall to the head), and heartbreakingly awkward interactions between former loves, Persuasion fulfills all requirements for an excellent Jane Austen novel.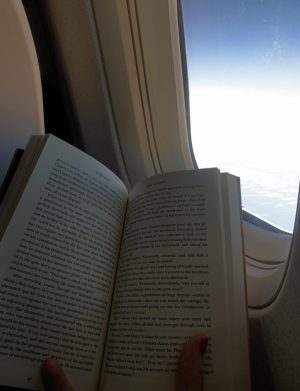 Moreover, it centers upon a level headed protagonist who cares deeply and honestly throughout a thoughtful journey through family and romantic drama. I think that Austen's timeless witticisms and observations of human interaction within Persuasion speak for themselves and need no alterations nor additional creative liberties to be enjoyed by a modern audience (cough, cough, Netflix).
Senior Livvy Halle, who equally admires this book out of all of Jane Austen's works, shares that "Persuasion perfectly encapsulates a real and true love story. Although it may be milder in irony than Austen's other novels, it sheds light on an unassuming yet self-aware Anne Elliot: the kind of protagonist that gets passed over too often. She is selfless and kind, but that does not make her frail. I love this novel because it feels much more authentic and lived-in." Livvy summarizes the sensation of reading this book best when saying that it "is not a spectacle, but it is rather an invitation into a real life."
Shutter Island by Dennis Lehane
Published: 2003
Genre: Thriller
While reading Persuasion evoked feelings of warmth and heartache, reading Shutter Island evoked feelings of sogginess and isolation. That is to say, a distinctly different reading experience, but not an altogether less rewarding one. The story begins with U.S. Marshal Teddy Daniels arriving at Shutter Island, home to a hospital for the criminally insane. Teddy and his partner, Chuck Aule, set out to find an escaped patient and convicted murderer, Rachel Solando, just as a hurricane rolls in.
I was sufficiently creeped out by this book, but also intrigued by the fact that Lehane took some inspiration for the setting from the Boston Harbor islands. The connection to a local setting, and one that I've always been curious about, made the book that much more eerie. The little details within this book are worth paying attention to, and I would definitely like to re-read it to pick up on insights I may have missed the first time around.
Sandkings by George R.R. Martin
Published: 1979
Genre: Science Fiction
This novelette was disgusting and awesome. It follows Simon Kress, a wealthy resident of the planet Baldur, who prides himself in his collection of exotic creatures. When his dangerous animals begin to die out, he looks for replacements at the mysterious establishment Wo & Shade, finding small insect-like sand creatures that are controlled through telepathy. Kress buys the creatures and promotes a sandking fighting ring with other rich playboys, capitalizing off the hostile and territorial nature of the sandkings. Hungry for power and cruel entertainment, Kress abuses the creatures as they continue to grow in strength and resistance to their owner.
I much prefer fictional insects to real ones, but unfortunately, this story made fictional insects feel all too real. Although feeling perpetually itchy while reading may not be for everyone, I think that Sandkings packs a punch of gruesome imagery balanced with cutting commentary on the dangers of abusing one's power. I still find myself a bit haunted by this story, but then I fondly remember Martin's subtle and effective world-building and description and recommend the short story to anyone in search of an exquisitely stressful reading experience.
Homegoing by Yaa Gyasi
Published: 2016
Genre: Historical Fiction
I read Homegoing for Ms. Roth's class and found it to be a fascinating and fast-paced read. The book follows Effia and Esi, two Ghanian sisters, and their descendants, from the eighteenth to twenty-first centuries. Effia marries a colonizer, with descendants living on the Gold Coast of Africa, while Esi is enslaved and her descendants grow up in America. The book's chapters that jump from snapshots of the lives of Effia's descendants to Esi's. 
I was impressed by the sheer amount of information relayed through smaller narratives within this story. Gyasi's talent emerges in her layering of generation upon generation without losing sight of the unique burdens carried by individual characters and how inherited pressures and traditions influence their lives. Each new chapter contributed a new emotional angle to the story, and left me longing for more time with every character.
Senior Sherry Sze, another student from Ms. Roth's class, says that she "found the story to be such a profound and eye opening experience. Each unique character's journey touched on a different aspect of being African American in America which is such an important experience to learn about… Yaa Gyasi truly made a masterpiece that I believe all students should read." Undoubtedly, Homegoing left an impression on the entirety of our class as we unpacked memorable moments and messages in an extensive student-led discussion.
Honorable mentions: Convenience Store Woman by Sayaka Murata, A Darker Shade of Magic by V.E. Schwab, and Little Fires Everywhere by Celeste Ng.
After a rich year of reading in 2022, I look forward to enjoying new reads throughout 2023 as my high school career comes to a close.