March Madness 2023: First Round Upsets
For college sports fans, March is one of the best months. Every year, 68 D1 basketball teams compete to take home the National Championship. Fans, students, alumni, and many more anticipate each game, hoping it won't be the last for their favorite team. The 2023 NCAA March Madness tournament has only just begun, but fans have already seen more surprising upsets than usual. Like past years, people all across the country make brackets, many of which were busted after the first few days of games. Freshman Ben Brazis is one of many at Hingham High School who has filled out a bracket and hopes to win among his friends. He says, "March Madness is the most entertaining sports event I've ever seen!" The first round of games this year lived up to "madness" that is long waited by viewers. 
No. 4 Virginia v. No. 13 Furman 
Final Score: 68-67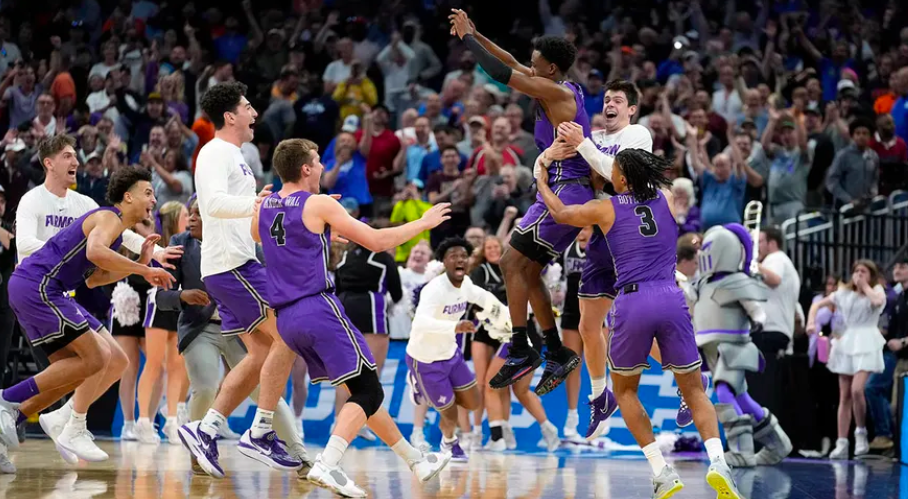 To begin, this matchup was sure to leave fans either shaking their heads or celebrating like never before. On Thursday, March 16th, the Furman Paladins pulled off an astonishing victory against the Virginia Cavaliers. With 19 points, 10 rebounds, and 4 assists, Senior forward Jalen Slawson helped lead the Paladins to victory. However, the team could not have advanced without Sophomore guard JP Pegues hitting the game winning 3 with just 2.2 seconds left. On the other side, the Cavaliers were led by Junior forward Kadin Shedrick with 15 points and 13 rebounds. This game marked the start of a series of upsets for highly ranked programs. Since Furman's most recent March Madness appearance occurred in 1980, the Paladins had a lot to celebrate. 
No. 2 Arizona v. No. 15 Princeton
Final Score: 59-55
Next up was Arizona Wildcats' fateful loss to the Princeton Tigers on Thursday, March 16th. With a record of 28-6 this season and their team averaging about 82 points per game, the Wildcats were the sure favorite. Arizona controlled possession for the majority of the game, entering the second half up 31-30. Junior forward Ąžuolas Tubelis led the team with 22 points, but Princeton's defense held it together. With 50 seconds left, the Tigers had its first lead of the game up 56-55. Excellent ball distribution and an unwavering sense of team spirit and pride won Princeton their first NCAA Tournament win since 1998.  
No. 1 Purdue v. No. 16 Fairleigh Dickinson (FDU)
Final Score: 63-58
To the majority of fans, the most surprising upset was FDU's win over Purdue. Leading FDU, was Sean Moore, but credit goes to their entire team for holding amazing press, especially against the Boilermakers' Zach Edey. After the Knights' win on Friday, March 17th, they became only the second 16 seed to beat a 1 seed. Freshman Libby Rogers explained that "Purdue's loss threw a wrench in my bracket, but I love the competitive atmosphere that the competition creates."