Album Review: "Call Me if You Get Lost: The Estate Sale" by Tyler, The Creator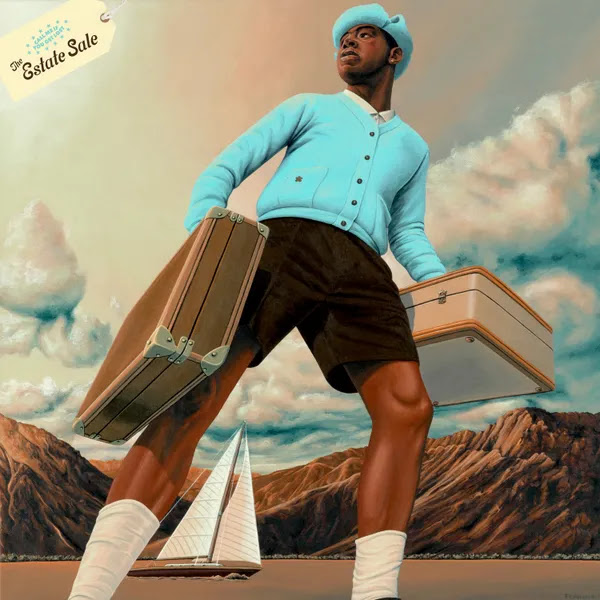 Two-time Grammy winning artist, Tyler, The Creator, finally released a "new album" after almost two years. This "new album" is the deluxe version of his 2021 Grammy-Winning album, Call Me If You Get Lost (CMIYGL). 
The album is named Call Me If You Get Lost: The Estate Sale and it dropped on March 31st, 2023. Featuring 8 new songs, the vibe is more focused on R&B rather than rap. 
The tracklist includes these new songs:
"Everything Must Go"
"Stuntman" (feat. Vince Staples)
"What a Day" 
"Wharf Talk" (feat. A$AP Rocky)
"Dogtooth"
"Heaven to Me"
"Boyfriend, Girlfriend" (2020 Demo)(feat. YG)
"Sorry Not Sorry". 
Tyler released the track "Dogtooth" on March 27th, just 4 days before the rest of the album. It was a single and a preview for the deluxe version which was widely enjoyed by his fans. Currently, it has almost 18 million streams on Spotify already. 
Additionally, on Youtube, Tyler released the music video for "Sorry Not Sorry" before the drop of the rest of the album. It is where he goes on apologizing to his friends, family, and fans for things he has done over his career. In the music video, he is surrounded by his different personas from different albums and confronts each. At the end of the song, Tyler bloodies up his CMIYGL persona, Tyler Baudelaire, which many fans believe symbolizes the end of the Call Me If You Get Lost era. 
Junior AJ Barret shares: "I think my favorite songs off the deluxe version are 'What a Day', 'Wharf Talk', and 'Sorry Not Sorry'. I also really liked how he released Sorry not Sorry as a single first on just YouTube because then you had to watch the music video, which I think is a really good visual representation of his evolution as an artist showing himself in his different eras of creating music." 
The first track, "Everything Must Go", is Tyler thanking his fans for attending his tour for Call Me If You Get Lost and also thanking them for the Grammy he received. These lyrics go:  "Arenas all around the world/ Took another trophy home/ Thank you to every ear that listened, bought a ticket, whatever/Thank you, thank you, thank you, thank you/ I love y'all man, for real". The song is only 28 seconds and its main purpose is to convey this message and to act as an intro to the rest of the songs.
Back in March of 2022, I attended Tyler's concert for CMIYGL. He did an amazing job performing not only songs from the CMIYGL album but also other songs from his discography. Furthermore, I would like to think of these songs being released as Tyler's thanks to us (his fans) for supporting him throughout his tour last year and his career.