Hingham Boys Lacrosse Defeats Lincoln-Sudbury in a 9-8 Victory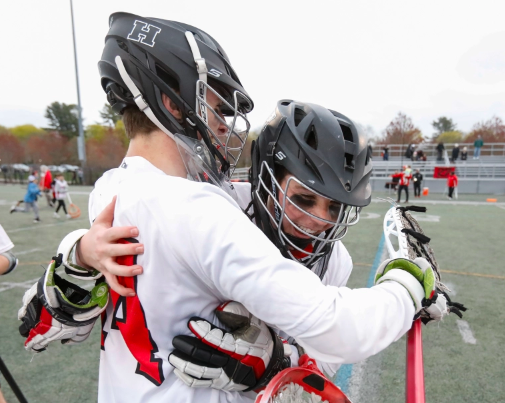 On Saturday, April 22, the Hingham Harbormen took the turf to face long-awaited rivals, the Lincoln-Sudbury Warriors. Every year, eight Division 1 Lacrosse programs across Eastern Massachusetts compete in the annual Coaches Cup Tournament. For 13 years, the goal of the competition has been to honor dedicated coaches and players. This year proved no different as Lincoln-Sudbury and Hingham are both consistently regarded as top lacrosse programs across the state. This year, Hingham High School had the opportunity to host the Warriors on their home field.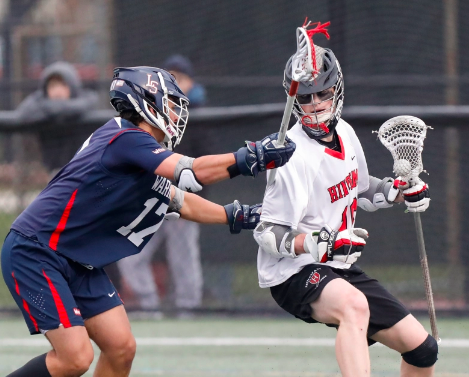 Families, students, and even some teachers came out on Saturday to show their support. One of these fans, Andrew Sullivan, explains that he really enjoyed his time at the Lincoln Sudbury game with his friends. He also says, "In order to win a lax game you have to play as a team. Hingham's stifling defense and fast moving offense put them in a position to beat LS when it mattered most". 
As expected, the high-intensity game remained extremely tight right up until the last second. While the first half was a slower start for the offense, much credit is given to Hingham's goalie, Nate Hoffman, who tallied up 16 saves by the end of the game. The entire defense certainly kept Hingham in the game, although trailing 4-3 at the half. 
The second half brought much more offensive excitement into the game. Senior Captain Charlie Packard got things going for Hingham in the second half. The Richmond commit tallied a hat trick while scoring the game-winner with 8:49 left to bring Hingham to a 9-6 lead. Lincoln Sudbury put up two more goals but still fell short in their loss. Other seniors such as Joe Hennessy (3 goals) and Connor Lasch (2 goals) both greatly contributed to the Harbormen victory. For Hingham, it was the first Coaches Cup title since 2018. 
Freshman Chase Beighley mentions that after a win, Head Coach John Toad will tell them "We laid bricks today". Beighley elaborates on the coach's metaphor, saying that "We are building a house which is the State Championship and when we do something good we are laying a brick towards the house". 
At the end of the game on Saturday, the Hingham Boys Lacrosse team had much to feel proud of. Lincoln-Sudbury had put up a strong fight, but the Harbormen rallied together to pull off the Coaches Cup Championship win.