Veteran's Day Ceremony at Town Hall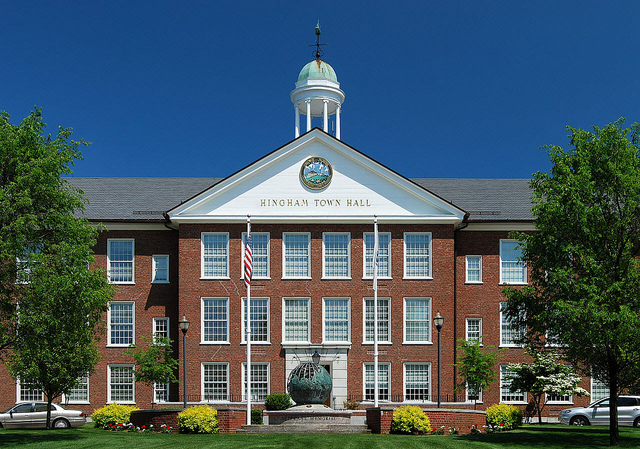 I wanted to pay my respects to service men and women on Veteran's Day, and after attending the ceremony at Town Hall on Tuesday I felt better for attending the ceremony.
The service opened with the Police and Fire Departments presenting the colors and the Veteran Rifle Detail proceeding into the auditorium, both promptly at eleven o'clock. The timing of the ceremony's commencement honored the armistice that ended World War I, signed on the eleventh hour of the eleventh day of the eleventh month, ninety-six years ago.
Soloist Kalli Jermyn's flawless rendition of the National Anthem began the ceremony, and filled the audience with patriotic pride. Following this performance, the Hingham High School Band played the Armed Forces Medley, and veterans from each branch of service received applause as their specific anthem was played. The band cohesively tied together each military hymn into the single piece and captured the essence of the veterans' swelling pride.
The guest speaker of the ceremony was Lt. Commander Anthony O'Brien of Pembroke. A Navy SEAL who served in combat tours overseas and humanitarian efforts, O'Brien delivered an empowering speech about the importance of honoring veterans for their contributions to our nation's security. O'Brien made sure to acknowledge all veterans in his speech, mentioning male and female veterans and veterans who served abroad as well as domestically. Balancing the seriousness of his topic with humor, O'Brien's speech gave the audience a newfound appreciation for veterans.
This year, World War II veteran Guy A. Stadig received the veteran of the year award. A resident of Hingham and active member of Hingham's Veterans of Foreign Wars Post, Stadig earned this award for his time of service during war and his continued contributions to society though the VFW. The service concluded with a ceremony outside, where a wreath was laid on the veteran's memorial in front of the town hall.