Pumpkin Whoopie Pie Recipe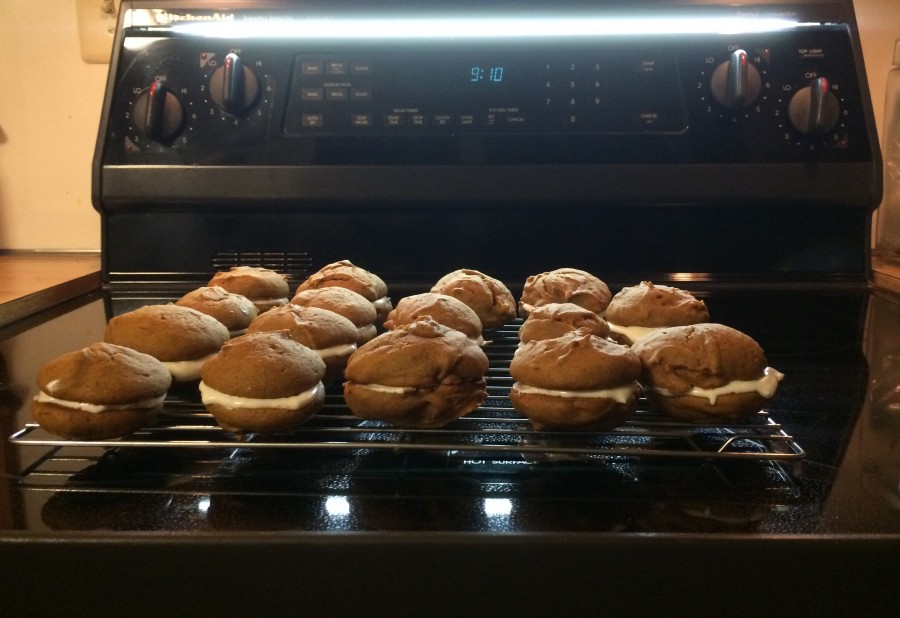 With the turn of the season comes a bombardment of new pumpkin-flavored treats to tempt your taste buds, including whoopie pies. Coming from a friend in Maine (the claimed birthplace of the whoopie pie), this new twist on whoopie pies is sure to please any crowd.
Before starting to bake, you need to gather the ingredients first.
"Shell" Ingredients:
1  15 oz. can of pumpkin
2  large eggs
1  cup vegetable oil
2  cups brown sugar (firmly packed)
2 T. molasses
1 t. salt
1 t. baking powder
1 t. baking soda
1 t. cinnamon
1 t. ginger
1 t. ground cloves
3 cups all­purpose flour
First, preheat oven to 350 degrees. Next, beat pumpkin, eggs, oil, and brown sugar together until fluffy. Separately, combine the dry ingredients in a medium sized bowl.  Add molasses and dry ingredients to beaten ingredients until well blended.  As for the hardest part, you must scoop large rounded spoonfuls of batter onto a greased cookie sheet and space at least 2″ apart. If you use teaspoons, you will have approximately 48 shells and 24 small whoopie pies. However tablespoons will make 24 shells; enough for 12 large whoopie pies.  Finally, bake for 10-­13 minutes.
Now is time for the cream cheese filling. You will need:
6 oz. of cream cheese
1/2 stick unsalted butter (softened)
2  cups confectioners sugar
3  heaping tablespoons of marshmallow fluff
2 teaspoons of water
Now simply combine all ingredients in a bowl and beat until light and fluffy. Once the shells are cooled, place a scoop or two of filling in between the shells, and enjoy!