Annual Flag Football Tournament in Honor of Sean Ryan Held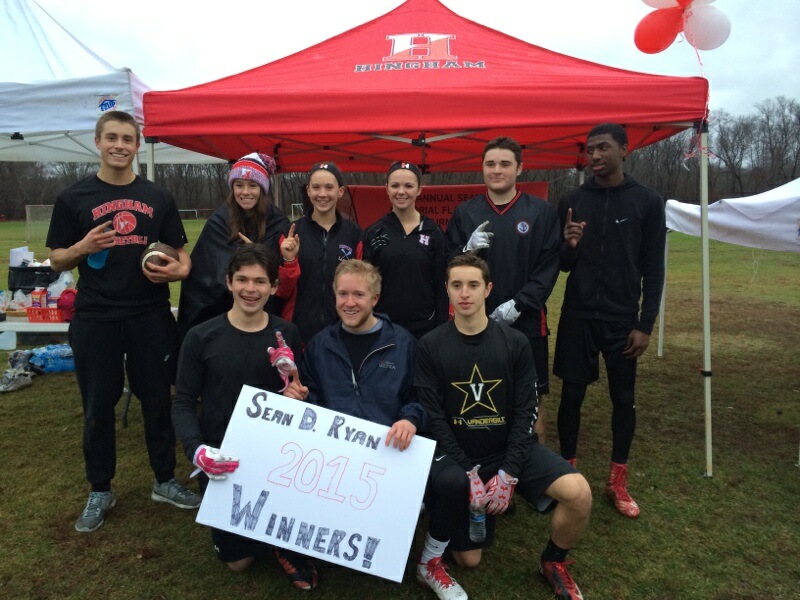 Four years after the tragic death of Hingham High School graduate Sean Ryan, family and friends of the Ryan family celebrated his life and mourned his death at the annual Flag Football Tournament. Held this Saturday, the tournament has grown so much in its mere four year run that it is now run by the high school's football program. The turnout was great, as about 100 people came to play and support the teams facing the cold rain to commemorate Sean. Teams full of Sean's friends and family, Hingham alumni, and current Hingham High students played all day, enjoying each other's company and thinking of their fallen friend.
Over the past few years, a Hanover team with a distant connection to the Ryan family has continually won the tournament, but this year they were dethroned by one of Hingham High's teams, led by Andrew Spaziani. Their team, Nos Todos Calientes, defeated the reigning champions at the end of a long, cold, and rainy day. It was nice to see a team from Hingham win the tournament this year, keeping Sean's legacy close to home.
I think playing in the tournament is a great way to appreciate Sean and celebrate what he contributed to the High School. If interested, create or join a team next year in honor of Sean D. Ryan.