Changes in Girls' Crew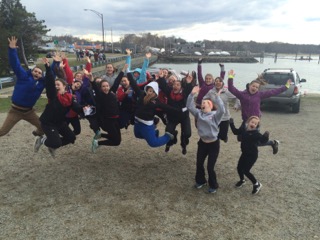 Here at HHS, this school year has been very successful for the Girls' crew team. During the fall season, the top two Girls' Varsity boats earned gold medals and claimed state championships. These girls were led to victory by Head Coach Dusan Nikolic.
This spring season, however,  is different. Starting at the beginning of the season, the Girls' Varsity team is now coached by Coach Gavin Kelly, as Coach Dusan moved on.
Before coming to Hingham, Coach Gavin was the Program Director and Head Girls' Coach at Wayland­Weston. While there, the Wayland­-Weston Girls achieved a best ever 12th Place Finish at the Head of the Charles.
In addition to his work at Wayland-­Weston, Coach Gavin coached for BC High and Boston College as well. Coach Gavin graduatated from Marist College and is Level 2 Certified.
Even before Coach Gavin came to Hingham, he heard about how competitive and hard­working the rowers here are. When I asked him how he feels about Hingham thus far, he admitted "I love [Hingham], it's great." He added the "Team culture is really good, and everyone wants to go really fast."
In regards to the rest of the spring season, Coach Gavin already set some goals for his team; he hopes they can compete for a team title. Crew is exclusively a teamsport, but overall Coach Gavin wants everyone to do her best day in and day out.
Coach Gavin's time at Hingham has been short but triumphant. On April 9th at Wayland Town Beach, the first regatta of the spring season, the Girls 3V8 claimed first place victory over Wayland-­Weston.
Many of the Varisty girls have been rowing since they enrolled at HHS, and this new coaching staff is definitely a change for them. Junior Gill Mehigan, who typically rows as a starboard, has been rowing since the fall of her freshman year. Mehigan remarked on the new coaching staff, "I definitely think we have seen significant advances as a team, especially in these past two weeks."
She told me about how new coaches often alter stroking style, and that this holds true with Coach Gavin. Despite the changes, Mehigan firmly believes that the team will benefit overall.
"As we go into the spring season, we definitely have a younger team than usual. It's exciting to know that there is a large group of passionate kids that are younger than me, and I know all of them want to do well as much as I do," Mehigan said. "As the weeks go on and we get better, the weather gets nicer and being on the water or at regattas is that much more fun. Every season is always so different and I'm excited to see what this one brings. I feel like as seasons go by I miss the people, such as seniors that graduated, the most. While the girls all miss Dusan and Jess, we are definitely optimistic about this season."
Girls Varsity is not the only team experiencing changes this season, as the Girls' Novice team underwent some alterations as well. These girls did well in the fall, winning the Novice Challenge on October 31st under the supervision of Coach Jessica Burbridge.
On top of the fact that there are many new rowers joining the novice team this spring, there is a new coach as as well. Patrick Houle, the new novice coach, transferred to coaching Hingham after coaching as the Head Varsity Girls' Coach for Glastonbury, Connecticut.
Coach Patrick rowed throughout high school and continued to row in college for the University of Rhode Island from 2006-­2010. Currently, Coach Patrick lives in Dorchester and is a fifth grade teacher in Canton.
Coach Patrick knew about Hingham prior to coaching here. He told me, "Glastonbury was a NEIRA school, so we used to race Hingham at NEIRA. And I always knew that Hingham was fast… I was always impressed with [Hingham]. They got second place at NEIRA in overall team ranking and that's really a great accomplishment."
This past Saturday, April 9th, Coach Patrick led the Girls' Novice team to a first place victory over Wayland­Weston's two Girls Novice boats.
When I asked Coach Patrick about how he is enjoying Hingham since his move from Conneticut, he said "Hingham seems to be a great community with a lot of great families who are super involved; parents are helping out, kids seem really interested in the sport."
One of Coach Patrick's primary goals for this season is to make sure that all of the eighteen novices become solid rowers who know what they're doing. There are plenty of novice girls who have never rowed before; therefore, Coach Patrick aims to teach these girls to row fast and to help get them truly interested in the sport by the end of the season. Also, along with the rowers, he hopes to win state championships. (Article continues below gallery)
As these changes in coaching staff are a big difference for returning novice rowers, I asked some of them about how they felt as well. Freshman Grace Gruber, who rows starboard, said, "I believe [the coaches] have a good new way of coaching that will be beneficial to everyone."
"I am extremely excited for this season. We have an extremely strong team this year, both varsity and novice and together. We are all ready to start winning," Gruber continued. "I think I speak for all of the novices when I say that we miss our old coach Jess Burbridge, but we are also extremely excited to get to know Coach Pat and see where he takes us."
Freshman Leah Humphrey, who also rows starboard, agrees. "I like the two new girls' coaches," she told me. "They are still getting used to the hang of things, but they really seem like they want us rowers to succeed and have fun."
Although this new coaching staff doesn't appear as much of a change to the new rowers, I asked the new rowers about how they were enjoying the spring season thus far. Freshman Kayla Collins, completely new to crew, claimed, "I'm very excited for the new season, and as a new rower, both the coaches and other rowers have been great in helping me feel more comfortable with the sport."
Despite the changes, each and every rower I spoke to seems more than excited for all that this season will bring. Let's bring home some more gold!