March Madness
With another year comes the annual "March Madness" tournament. Being the main sporting event for the whole month, it is hard to not know about it and this year there is no way it could be forgotten.
Sixty-four teams enter the Big Dance all hoping they can make a push for the national title. For some this time of year brings glory, but for others it brings disgrace. Everyone had picked his or her team to win it all, but few succeeded to see it out. Freshman David Mills says, "My bracket was dead by the time the second round came along but I still enjoyed the games very much."
There were many upsets this year, including the heartbreaking and bracket breaking, loss of Michigan State. Freshman Ben Shadrick jokingly said, "I cried a little after that game." Though Michigan was not the only team to lose this early, it was definitely one of the most notable.
On the other side of this spectrum are the underdogs who clawed their way past higher seeds to try and make a name for themselves. For many of these teams this march had truly become a dream. Among these teams was a lonely yet ferocious Syracuse, a ten seed who found their way to a final spot. Sadly for them they were crushed by UNC in a domination by 27 points.
Even crazier was the absolute blowout of Oklahoma by Villanova. As a favorite to win the whole tournament, Oklahoma came into with an air of confidence. They had one of the best players of the country, Buddy Hield, but they did perform. They suffered a loss of 44 points, the biggest deficit in NCAA tournament history. As for Villanova, they gained respect among media and now were a serious threat to UNC.
Now it was time for these two juggernauts to go head to head in the final game. Going into it UNC was the favorite, but Villanova was able to hold them close. In the final minutes UNC was able to perform a massive comeback to tie the game with the circus shot by Marcus Paige. At this point the crowd cheered louder than ever, but with little to go history was made.
The clock was winding down and Villanova's point guard was looking for a shot, but UNC's tough defense stopped him. With no shot in sight he saw his team mate Kris Jenkins open. He caught the pass and without hesitation he launched it. It falls through and the game ended in miraculous fashion. Freshman John Goggin says, "UNC was my team and that was the most heartbreaking loss I have ever experienced.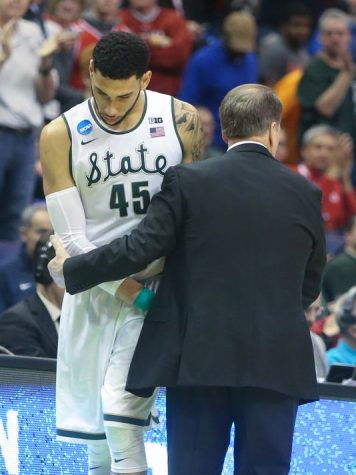 "