Equality: One Shirt at a Time
All throughout the first week of May, Ms. Black and Mr. Louchheim actively raised the morale among students by way of a t-shirt designing opportunity.
Every day after school, students could to bring a plain white t-shirt to one of the teachers' classrooms. There, students were allowed to use black and red markers to write one of the following phrases on their t-shirt; "This is what a feminist looks like," "No place for hate," and "Equality for all." If students took advantage of the opportunity, they were then allowed to wear their personally designed t-shirt to school on Friday as a way to spread the positive message of equality.
The idea for "T-shirts for Equality" came about in light of upsetting incidents occurring around the school. Ms. Black and Mr. Louchheim both found that it was time to take action and help students build each other up opposed to tear each other down.
Ms. Black spoke passionately with heartfelt expression about the student body, the idea, and the spreading of equality in general. She sincerely remarked that she does believe that our student body as whole agrees that our school is "No place for hate" and that we predominately support one another. Although she does trust that the unfortunate occurrences around the school are isolated ones, she still knows how important it is to spread positive messages such as this one among students.
Anyone could join in the event–girls, boys, staff–as anyone can be a feminist. Abby Fennelly, a freshman participant, was particularly excited. "It's a great idea," she mused. "I don't know if it will change anything, but I think it's a really good message."
Hallways were littered with all types of students, including entire sports teams and clubs, and faculty wearing their personally designed t-shirts. Every t-shirt advertised the importance of accepting each other and making this school a supporting and safe environment.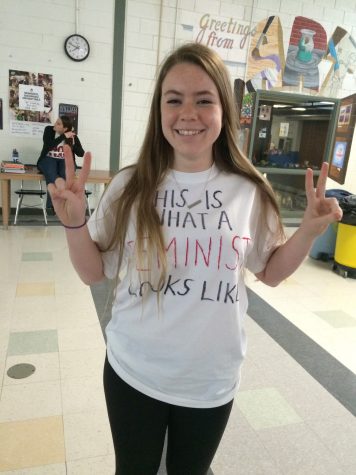 After the success of this event, Ms. Black and Mr. Louchheim revealed that there are other ideas in the works. "We are going to continue on with our work with the Climate Committee. There is a group of students and teachers that are involved and interested in containing this kind of sentiment throughout the year and for years to come, so we are going to figure out more ways to have people work within our community, maybe have some future days of community service, further educating our students and faculty–everybody–on some of these issues," Ms. Black confirmed without hesitation.
"And, hopefully, we can unite these students, because I think we all have more in common than not," she finished, and I certainly agree.