Shush! The Stress of APs in May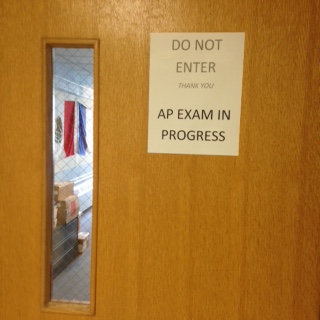 As AP exams creep into Hingham High School again, the stress of doing well hangs over the heads of the students. Advance placement class are college levels classes that are offered for grades 10­-12 at Hingham High. If a student receives a good grade on one of these exams, the student can earn college credits. Those credits allow the student to skip certain classes at college, helping tuition costs and limiting the amount of time spent in college classes.
AP classes at the high school are often viewed as stressful and extremely hard. Andrew Adams, a sophomore at hingham high, begins studying for his AP World History exam next week. "I'm just doing general review and taking some practice tests. You don't have to do a full review on every single thing you learned because the whole course is designed to prepare you for the exam. My teacher, Mr.Woolley, also did a good job of teaching us in a way that would prepare us for the exam," said Adams.
Most students felt well prepared for their exams,  but they still felt stressed. AP classes are not only taken for college purposes but also are a good way to challenge yourself. Senior Casey Cosgrove took AP Spanish this year and said, " I would recommend AP classes for students…if they are ready to put in the time and work. AP classes require a lot of hard work and time but if you want to challenge yourself, I highly recommend it."
Challenging yourself is difficult, but the work pays off in the long run and it helps you achieve new goals. There are only 24 hours in the day, and a typical high school student spends a minimum of 30 hours in school a week, not including clubs, sports and events. Managing time between school and social time is hard. Still though, most students recommend AP classes.
Junior Conall Mannion and Senior Mackenzie Mead both mentioned how much time it takes to study and manage their lives outside of school.  "I haven't had much time to study outside of class with sports and other homework I have," Meade admitted. Since students miss other classes to take the AP exams, the added make-up work often leads to more stress.
As a courtesy, the student body should remember to mind the noise levels in the hallways during exam times. Good luck to students and their exams.