Junior Awards Night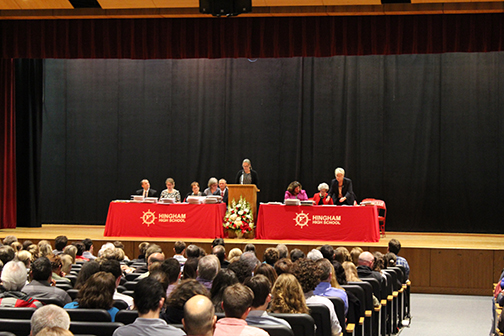 On Tuesday May 24, Hingham High School presented its annual Junior Awards Night to the Class of 2017. Over a hundred juniors were awarded with recognition from staff, administration, outside organizations, and even colleges for their academic endeavors at HHS and their dedication to their community.
Of the most prestigious awards of the night were 47 "College Awards" granted from post-secondary institutions across the country. Some awards formally recognized students and rewarded them with books. Of these awards was the Boston University School of Education Book Award, gifted to Katherine Morgan, Harvard Club of Boston award gifted to Cotter McCarthy, an award from Dartmouth College granted to Emma-Leigh Lamonde, and many others. Several colleges even granted scholarship awards to selected students. Clarkson University granted Bradford Patterson and Justin Whitney with sizable scholarship money. Furman University awarded Emma Burleigh, Juliana Fenton, Rose McDonald, Kathleen Murray, and Isabel Murray-Brown with large grants. Stonehill college gave a considerable scholarship package to Mary Kate Brennan, and many others were recipients of these gifts as well.
Each department at HHS granted several prestigious awards to their worthy students. The Mathematics Department recognized several students, specifically for their high scores on contests across the region. Kyle Sutton, Noah Goodman, and Daniel Carr were awarded for placing 1st, 2nd, and 3rd, in the school for the New England Mathematics League.
The Social Studies Department granted awards in several categories, noting participants of the National History Day competition and Student Government Day. Many juniors were honored with United States History Awards. Selected others received more specific awards; Bradford Patterson took home the Civics Award and Angela White was granted with the Hingham Historical Society Award.
Several students took home Science Awards on Tuesday. Many individuals were granted for Excellence in Biotechnology (Catherine Grosskopf) , Excellence in Physics (Aidan Cusack, Noah Goodman, and Zach Lytle, Outstanding Achievement in Chemistry (Matthew DeMelis, Owen Shadrick, Sarah Smith, Collin Bonnell, and Nicholas Najjar), Outstanding Achievement in Oceanogrpahy (Emma Rowe and Maeve Lyons), and more. Three young ladies, Sarah Calame, Angela White, and Mary Kate Brennan, were granted honors from the Society of Women Engineers for their dedication to science.
Many other awards were granted to those who show extreme dedication to their school and town communities. Patrick Bird, Michael Pace, Collin Bonnell, and Zachary Jameson received honors for Diligence & Determination. Emma Ronacha was awarded with the Student Council Leadership Award. The University of Rochester also granted several significant awards to those dedicated to their community in Hingham, including Michael Pace, Katherine Morgan, Maxwell Giarusso, and Daniel Carr.
The English Department granted a great deal of awards to many students for Outstanding Achievement in English.  Zachary Jameson was selected to receive the Twenty-First Century Book Award, and Stephanie Pett received an honorary Lisa Audet Award.
The teachers of many electives here at HHS honored their students as well. Rebecca Smith, Matt Rice, and Maeve Maloney took home awards for Excellence in Drama. Brianna Johnfinn, Kyle Desmarais, and Alison Knoll were of many to take home significant awards in Fashion Design, Culinary Arts, and Child Development. The Arts Departments granted awards to several students dedicated to pursuing art at HHS, including Claire Stone (for Graphic Design and Photography), Holly Coughlan and Lucy Collins (for Drawing and Painting), and Elodie Cascarano and Carolyn Patterson (for Ceramics). Industrial Technology granted achievement awards to many, including Taylor Giordani for Technical Drawing and Matthew Kenney for Woodworking. Jeffrey Gordon and Owen Pelissier took home awards for Physical Education. Thomas Glynn took home a quite honorary achievement award in Television Production.
The Foreign Language departments recognized several studies for their studies and Excellence in Spanish (Kyle Sutton and Cotter McCarthy), French (Emma-Leigh Lamonde and Noah Goodman), Latin (Patrick McGeoghan), and Chinese (Matthias Ling). There were several awards given to high scorers in the National Latin Exam, with James Riccardelli, Harrison White, and Kathleen Murray taking home the Summa Cum Laude, or Gold Metal.
The Junior Awards night was a huge success and I and many other juniors can only express the utmost gratitude for all of the honors granted last week.