2016's Harbormen Homecoming Football Game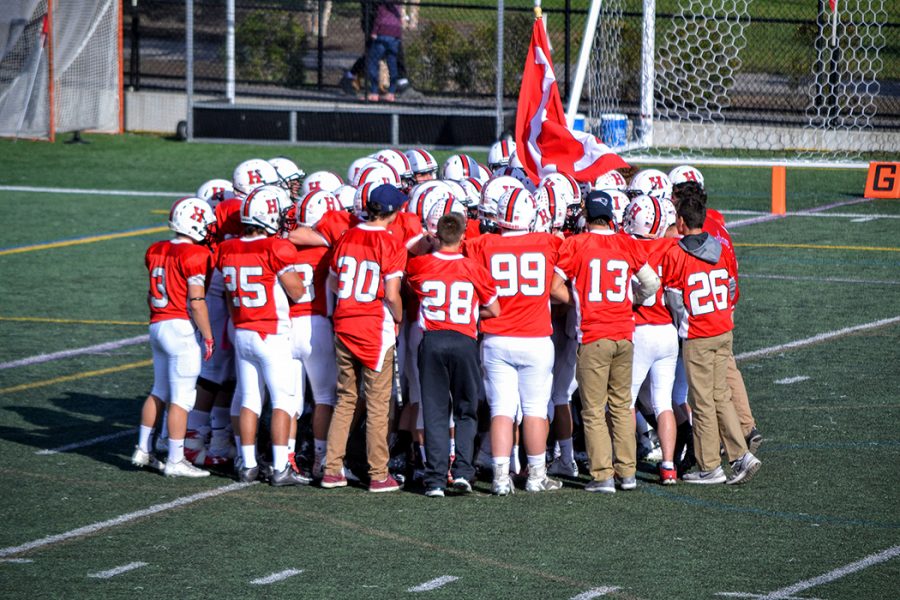 The Hingham Harbormen hosted the Whitman-Hanson Panthers this past Saturday October 15, 2016, at 3 in the afternoon.
An annual tradition and a favorite for many Hingham residents, Homecoming included home games from many sports teams including boy's soccer and field hockey, and it ended with the Harbormen's face off against the Panthers.  During the games, different clubs and organizations from the school community run tables to raise awareness and funds for their clubs. Clubs representing themselves with booths included Operation Smile, American Field Services, drama club, Gay-Straight Alliance and many others.
The football game got tense in the first quarter as the Panthers got away with two touchdowns, keeping Harbormen fans on the edge of their seats until the beginning of the second quarter.
After the second quarter got underway, however, the boys in red pulled hard and overcame their adversaries, winding up with a hard-earned twenty point lead at the end of the fourth quarter for a final score of thirty-two to twelve.
At the end of the first quarter, senior players acknowledged teachers and staff members who were an important part of each player's high school career. Staff members recognized included principal Girouard-McCann, Dr. Struzziero and officer Ford.
The remarkable dance team performed to their usual exceptional standard, with stunning choreography during halftime.
At the concession stand, the Class of 2017 was selling pizza, cocoa, candies and other treats to support their class's prom and other class events. Adults and members representing the Hingham Dance Team worked the grill during the game, supporting the girls performing on the field as they did so.
Although it was cold, the game was still one for the books. Freshman Sydney Starling noted how she, "I thought the game was a bit nerve wracking, as Hingham was losing until the second quarter, though we made an astonishing comeback!"
Sophomore Eli Fano was also at the game. He felt similarly to Starling how, "I thought it was an awesome game! Really stressful at first when Whitman Hanson pulled ahead at first, but the second half was awesome". He mentioned how it was, "super relieving to see us get back on our feet."
Though the football teams season is drawing to a close, many fans felt a sense of pride at the game on Saturday. We will continue to support the team in the games, and seasons to come.