Boys Crew Set A Guinness World Record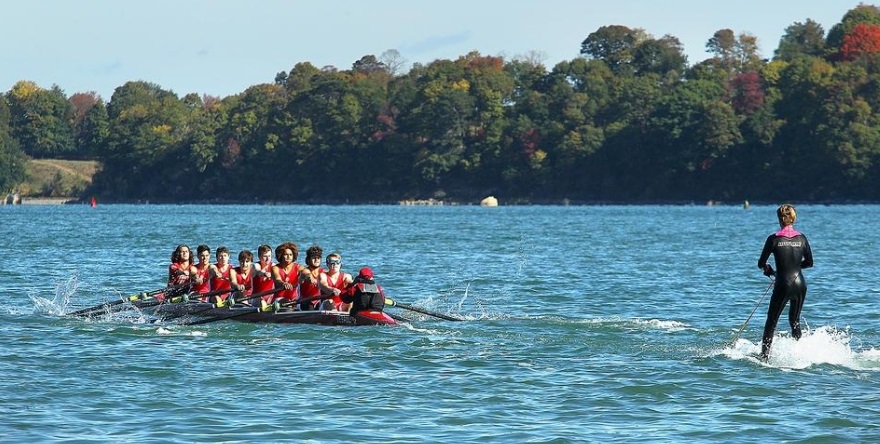 When you think of a world record, you probably think of it as something super obscure, something that you would never get to see, but at Hingham High, the Boys Crew Team set a tangible record in our very own Harbor.
On Saturday, while other sports teams were playing in the Homecoming games, the crew team had a fight of their own- against the clock. They attempted to break the 54 second record of pulling a water skier behind their boat held by the Stanford Rowing Team, and it was a success. At 4 minutes and 8.22 seconds, the boys swept the record away, taking the crown for themselves.
A spectator and a senior at Hingham High School, Olivia Million, said she "didn't know how long it had been," remembering that she felt "stressed they weren't going to make it." Thankfully they did, setting the Guinness World Record.
On the boat were 8 of Hingham's best rowers, as well as their usual coxswain acting as the waterskier. Cotter McCarthy, a senior has been water skiing for years and showed serious control and stability, exactly what the boys needed. The boys in the boat were captain Jack Metzger, Jared Freeman, Andrew Sandberg, Tyler O'Connel, Brendan Chase, Geoff Hewett, Ethan Quinn, Wil Mullin, and the coxswain Jonas Fryer. After racing the clock, Cotter McCarthy said he felt like he was skiing "forever," completely unaware of how long it had been. The boys team was happy to hear they had beat the record by a landslide, something seemingly unimaginable.
Congratulations boys, everyone at the high school is proud of the crew team and amazed that they now hold a world record, as they are a group of really great rowers from our very own home town.