The Results of the 2016 Elections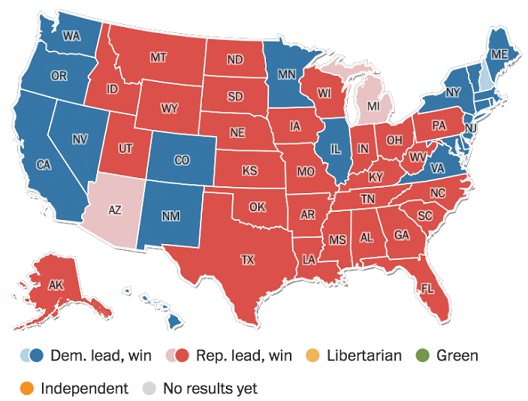 On Tuesday, November 8th, voters all over the country headed to their local voting precincts to vote in both local and nationwide elections. Most people would agree that the presidential election was by far the most compelling and dramatic of all the races that took place on Tuesday. After a long couple of years of hard work and campaigning, it was revealed that Donald Trump would be our next president, although Hillary Clinton won in Hingham. This result surprised the whole nation. All but two polls had predicted that Clinton would win the election.
Trump celebrated a win that not even his advisers expected. At around 2:30 A.M., several networks called the race for Trump. He delivered his acceptance speech, repeating his campaign slogan, that "we are going to make America great again." He congratulated Hillary Clinton on a hard fought campaign, and said "Now it is time for America to bind the wounds of division, have to get together. To all Republicans and Democrats and independents across this nation, I say it is time for us to come together as one united people."
After suffering a painful loss, Clinton delivered her concession speech on Wednesday, advising her supporters to "never stop believing that fighting for what's right is worth it." Her supporters also were disappointed in the fact that this country didn't elect the first female president, but Clinton reassured supporters that their hard work was not wasted, stating "I know we have still not shattered that highest and hardest glass ceiling, but some day someone will and hopefully sooner than we might think right now." Regarding Clinton's supporters' feelings about Trump, she reminded her audience "we owe him an open mind and a chance to lead."
The local results in Hingham were as follows: State Representatives for Districts 3 (Joan Meschino) and 4 (James Murphy), Representative in Congress for District 8 (Stephen Lynch), 4th District Councillor (Christopher Iannella), Plymouth County Sheriff (Joseph McDonald), and State Senator (Patrick O'Connor). Voters approved Question 3, which dealt with animal rights, and Question 4, which legalized recreational marijuana. Voters defeated Question 1, which would have added a casino in Massachusetts, and Question 2, which would have allowed additional state funding of charter schools.
As President Obama pointed out in his speech on Wednesday,"everybody is sad when their side loses their election. But the day after, we have to remember we're actually all on the same team. This is an intramural scrimmage."