HHS Varsity Volleyball Team Ends a Fabulous Season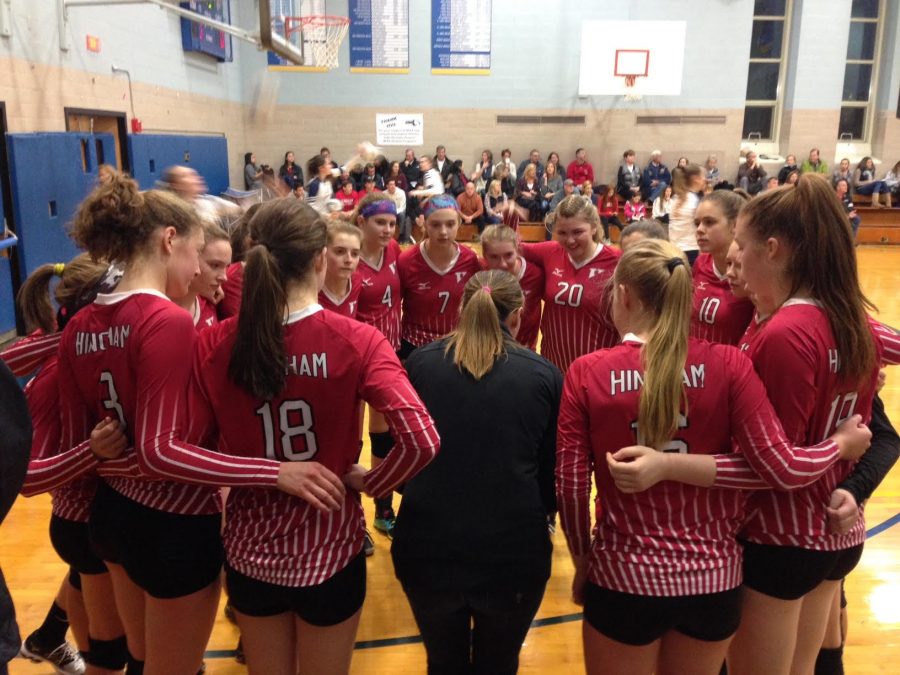 On Monday, November 7th, the Hingham High School Varsity Volleyball team suffered a tough loss in their playoff match against Notre Dame Academy. The Notre Dame Cougars have a strong team and will likely continue well into the playoffs.
Walking into the hot, small gym at Notre Dame, the music pounded with excitement as both teams prepared for the win or die match. The first game started out with the Cougars taking control immediately. Despite the Harborwomen's best efforts, they never got the lead in that game, and the score was 25-14.
During the second game, the girls valiantly fought the still strong Cougars who maintained a lead the whole game, winning the match at 25-15.
In the third game, however, the Harborwomen took immediate control and had their first lead of the night, For most of the game, the score was neck and neck, each team matching a point for the other. While the Cougars had a few serve mishaps, the Harborwomen made every serve count, forcing the Cougars to fight for every point.
Some powerful plays made by our very own Hingham Harborwomen include #8 Zoe Dainton ,#13 Katie Dolan, #7 Olivia LePenske, #22 Jacqui Baker, who is the team Libero, and #4 Tatum Oakley.
Freshmen Coach and Assistant Varsity Coach Courtney Foley affirmed that "the season went well… The girls really stepped up. They should step up and play harder teams next year." Having a record of 15 wins and 5 loses, the girls played a great season.
For team captains Emma Ranocha (#12) and Maeve Maloney (#9), the game against NDA was their last HHS game; it was a bittersweet moment shared with their teammates.
Freshmen volleyball player Mary Maffei said afterwards that it "was a great game that kept me on the edge of my seat…. I will miss our seniors, Emma and Maeve so much and wish them luck in what they have coming in the future…".
The girls should be proud of their great season.