La La Land is Reminiscent of Early Hollywood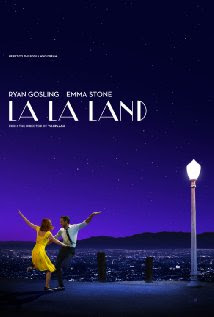 Starring Emma Stone and Ryan Gosling, the new movie La La Land resembles the style of musicals in the mid-1900's. Taking place in present day Los Angeles, La La Land tells the love story of an aspiring actress, who works at a coffee shop on the Warner Brothers lot, and a struggling pianist, who is passionate about jazz and dreams of opening a jazz club.
In the beginning of the movie, Mia (Emma Stone) is forced to go to a party by her roommates through an outstanding musical number. When she finds that her car has been towed, she walks by the "Lighthouse Bar" and is attracted by the jazz piano she hears. The person playing the piano, Sebastian (Ryan Gosling), is fired as Mia walks in. When she tries to talk to him, he storms out of the bar. In Spring, they meet again at a party, and after singing and dancing together, they become close friends. After Mia shows Sebastian the Warner Brothers lot and Sebastian introduces Mia to jazz, they fall in love. When Mia lands a role in a movie in Paris and Sebastian tours with a band, they become distant, even though they are both living their dreams.
As a fan of old movie-musicals, I was surprised to see that La La Land resembled the style of these musicals, and I think that this idea is new to many of those who have seen this movie. My favorite aspect of the movie was how realistic it was, aside from the spontaneous song and dance numbers. The fact that Mia and Sebastian start from the bottom in their careers and, after extreme work and effort, reach their goals is inspiring.  I think that teens especially should see La La Land because of how rarely they witness something that resembles the music and dance of early Hollywood. La La Land is by far the best movie I have seen this year, and I would even go as far as to say one of my favorite movies I have seen.
La La Land is a strong candidate for the Oscar Award for Best Picture. According to Entertainment Weekly, "La La Land has picked up another major end-of-year poll win". Although it is only playing in select theaters across the country, The Boston Globe said "La La Land, a throwback to the glory days of Hollywood musicals, was named the best film of 2016 by the Boston Society of Film Critics on Sunday".
I would highly recommend seeing La La Land to people of all ages, especially those who appreciate old Hollywood films.