Student Council Introduces New Valentine's Day Tradition to HHS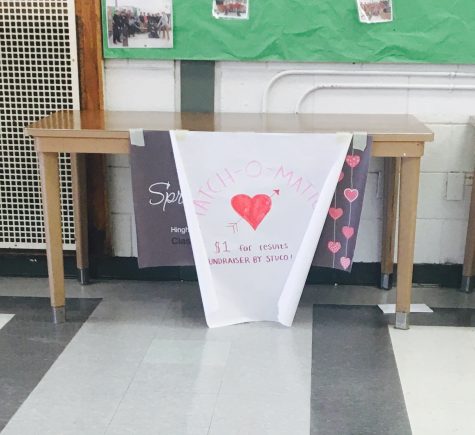 On Valentine's Day, Student Council introduced the Matchomatics Quiz to Hingham High School. In early February, all students in the Aspen X2 system were sent an email that contained a link to a thirty question personality quiz.
Hingham High School students had just a few days, between February 3rd and February 6th, to complete the optional Matchomatics Quiz. Once the deadline rolled around, the answers given by each student were evaluated and matched to other students who answered similarly.
Then, during all three lunches on Valentine's Day, students had the opportunity to pay one dollar for a printout containing their unique results.  The money raised went to Student Council.
On each printout, the results were organized into multiple categories, each containing a list of names that the program had deemed fit to that category.
Some of these categories included "Same Grade" and "Other Grades", which featured the student's closest matches within that specific group.  There was also a category identified as "Most Opposite".  Freshman Julia Waal said that she "assumed that the quiz would give only one name. Instead, it gave [her] a list of people and the percentage of questions [they] answered the same."
The printout also included an additional box at the top that gave the number of people who took the quiz, the number specific to the student of people who they had matches with, the number of people with their first name, and the number of people with their last name.
Freshman Lindsay Kuser said that "at first, I was nervous to get my printout. I thought it would be kind of an awkward thing to receive only one person's name and feel obligated to share that with my friends."
Many students, not being familiar with this tradition, felt the same way. According to freshman Alex Lannon, "it turned out that it was really fun to share our lists, and on the section that told us who our closest match for girls was, we compared to see if we got each other." 
The Student Council Matchomatics fundraiser was a success, and may hopefully be continued as a Valentine's Day tradition at Hingham High School.