HHS Students Attend Ceremony for the White Ribbon Campaign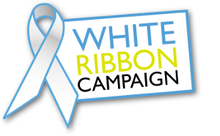 This past Wednesday, March 1st, 2017, marked the Spread the Word to End the Word Day, as well as the beginning of the White Ribbon Campaign. In the White Ribbon Campaign, for the month of March, people unite to help spark awareness about domestic and sexual violence.
The White Ribbon Campaign first started twenty-three years ago, back in 1994. In 1989, fourteen female students died at the hands of a man in the Ecole Polytechnique Massacre. Their deaths sparked much outrage and initiated a concerned group of men to launch a campaign against violence towards women. The men, in acknowledgement of the massacre, persuaded other men and young boys to wear a white ribbon to show their support against domestic abuse and to take action. This action has led more and more followers to take part in securing the safety of women, one of the campaign's initial goals, as well as uniting communities.
Junior Michael Hill attended the White Ribbon Campaign ceremony in Boston, "it is great to have a community that raises awareness about domestic violence against women, and I believe the White Ribbon Campaign will continue to grow and grow. It was an honor to attend."
Since the beginning, the White Ribbon Campaign has expanded the intitial goal of protecting women against domestic and sexual violence to also bringing together a community that widely recognizes the issue on a global scale through emails, posters, speeches, word of mouth, and much more. Many communities hold big events with speeches and personal stories. Junior Sammy Oman-Lochtefeld also attended the ceremony in Boston at Faneuil Hall, "I was most impressed by the true emotion with what the guest speakers wrote. Hearing about their personal interactions with gender based violence really helped add depth to the movement."
So far, the campaign has helped to bring about a cultural shift that hopefully will eradicate violence in the future. When people support the White Ribbon Campaign, they internally make an unstated pledge to never engage in or condone the abuse.