The Beginning of the Annual March Madness Tournament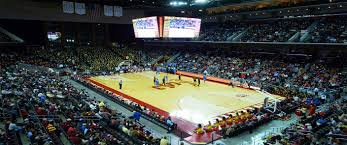 The annual college basketball tournament known as "March Madness" began on Sunday, March 12th. On Sunday, or "Selection Sunday", the bracket of college teams for the tournament was announced.  In this bracket, the teams were organized into four regions, each with seeds ranging from 1-16.
Each region has a dominant team that was ranked in first place for that respective region.  In the East, Villanova University was seeded first. In the Southeast, the University of North Carolina at Chapel Hill was seeded first. In the Midwest, the University of Kansas was seeded first. In the West, Gonzaga University was seeded first.
Immediately upon the announcement, everyone was able to fill out a bracket and to predict who would win it all.  According to freshman Julia Waal, "Filling out a bracket every year is really nerve-wracking. If the team you chose to win gets out, you can no longer win. Usually, I choose a number one seed because they are considered the best in the league and have a better chance of winning than most other seeds. This year, I have Villanova winning because they are the defending champions and seem to have a great record." 
Freshman Alex Lannon had similar difficulty.  She said, "I took a ton of time filling out my bracket this year because I tried to incorporate a few upsets for the first couple of rounds. I actually have UCLA winning, and they are a third seed." 
So far, there have been two upsets, or games where a higher ranked team loses to a lower ranked team. These were Middle Tennessee University, ranked 12th, who beat Minnesota, ranked fifth, and University of Southern California, ranked 11th, who beat Southern Methodist University, ranked sixth.
The winners of the next round of March Madness will advance to the Sweet Sixteen, where only sixteen teams will remain, and compete for the March Madness victory.