Cutting for Stone: Heartfelt and Unique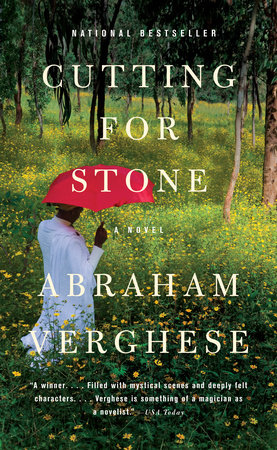 Abraham Verghese's Cutting for Stone is a 2009 novel that falls somewhere between historical fiction and an epic, following the life of Marion Stone, a half-Indian, half-European twin born in a hospital in Ethiopia.
Marion's troubled relationship with his twin brother takes center stage in the novel, as well as Marion's attempts to better understand the circumstances that led his mother and father together, and ultimately led to his conception, his mother's death in childbirth, and his father's subsequent desertion of his new children.
While Verghese is a master at developing unique dynamics between characters and telling an engaging and believable story, perhaps the greatest strength of the novel is due to Verghese's background as a surgeon and a first-generation immigrant from Ethiopia.
Growing up  in a hospital, and ultimately working as a surgeon, the character of Marion Stone obviously spends large portions of his life in the Operating Room. Throughout the novel, Verghese uses his personal experience and expertise as a surgeon to provide vivid, though sometimes uncomfortable, descriptions of various operations.
To many, this may sound wholly unappealing; however, Verghese has a knack for keeping readers engaged through a thirty-odd page description of a botched childbirth. He makes the world of surgery accessible to readers, while simultaneously avoiding straying into a condescending pattern of explaining procedures in simple terms. By the end of the novel, as one Hingham mother, Patricia Cairns joked, "I felt like I could do a liver transplant on my own."
Verghese, born in Ethiopia, provides a story that is interwoven with the history of Ethiopia between 1954 and the late 1970s, including the fight for Eritrean independence and the Communist period. Considering this dramatic political change was what forced his family to flee their home country, he provides an insightful and unbiased history of Ethiopia (although it's worth noting that some dates are changed to fit the character's storylines).
While Cutting for Stone excels at blending history, literature, and the medical world together into one cohesive story, the book's thorough exploration of these elements comes at a cost; the book is long, and extraordinarily dense. Though Verghese keeps every page entertaining, 658 pages of (often bloody) action are a challenge for any reader.
Despite its length, Cutting for Stone is as heartfelt as it is unique. Verghese succeeds in drawing readers into the medical world without a hint of condescending explanations.  He crafts stunningly realistic and complicated characters; he passionately exposes the history and culture of Ethiopia, and delivers a heartbreakingly surprising ending that supports his message on the importance of family. It's no easy read, but Cutting for Stone is a certainly worth the time.