Junior Awards Night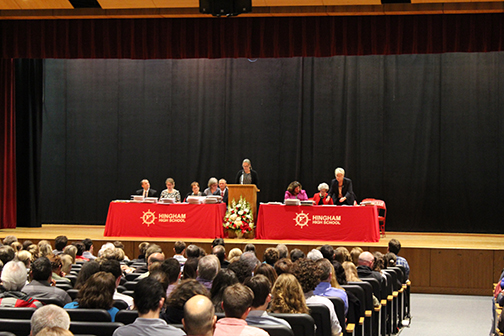 On Tuesday, May 23rd, at 7 pm in the HHS, selected students of the Junior class received recognition from teachers, guidance counselors, and colleges for their noticeably high-achieving efforts and dedication to their academics, extracurriculars, and more.
Across the stage in front of a table with stacks of certificates and book awards sat some of the head departments: Mr. Hoey (social studies), Ms. Pollard (foreign language), Ms. Andrews (soon to-be director of English), Ms. Silva (current, retiring English director), Mr. Jewett (mathematics), Ms. Flanagan (chemistry teacher), Mrs. Henriksen (Assistant Principal), and Dr. Girouard McCann, as well as representatives from Harvard and Williams College.
The night started with high applause welcoming Mr. Swanson, HHS's in-coming principal. Mr. Swanson began with a brief introduction to Junior Awards night, explaining the characteristics students demonstrated to receive recognition, the varying degrees of academic precision and determination that display a vigorous coursework combined with extracurricular activities ranging from sports to clubs. Such well rounded students, he said, reflect an ability to go above and beyond expectations. About 11%, or 46 of the roughly 360 students in the class of 2018, were called forward and given a book award from various colleges. Other students received certificates voted on by the faculty from Hingham High School.
The certificates encompassed all aspects of student talents. There were whole sections dedicated to purely mathematics, social studies, science, English, family and consumer science, fine arts, physical education, television production, student council leadership, diligence and determination, foreign language, and industrial technology. All these awards really reflected the varied opportunities granted to students at Hingham to showcase their potential and seek such outstanding accomplishments.
Junior Michael Hill said "It is great that so much of the junior class received recognition for all their hardwork and diligence. It really demonstrates the environment treasured at the high school." Many students received more than one award and or certificate.
Some teachers, who nominated the award winner, wrote little snippets about the student showering him or her with compliments and well deserved, too. Junior JT Jermyn said "It was awesome to see everyone go up and get their awards. It was great to see everybody's different achievements in so many subjects."
The book awards, which also offered short descriptions about the student recipients, ranged from all different colleges; some even included scholarship money. A couple book awards highlighted the STEMs (Science, Technology, Engineering, Mathematics) and students' excellence in their science and math courses.
In addition to a book, some book awards gave a student $25,000 a year towards tuition, as Ms. Flanagan put it that is $100,000! Others gifted $10,000 a year.
After the last awards, the night ended with refreshments and delicious cupcakes provided by the Hingham High School PTO to close another successful Junior Awards night.