Pumpkin Spice Returns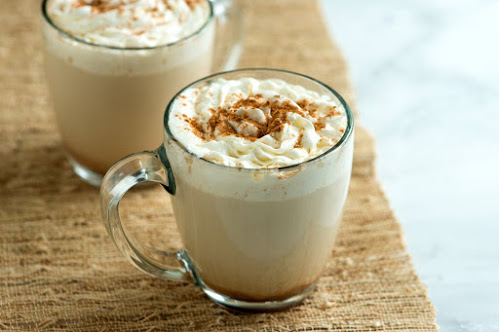 The fall season is in full swing! The leaves are changing and so is the food we eat. With fall time comes the pumpkin spice trend yet again. We see this renowned spice in everything from coffee to pastries and it is a big part of the festivities of the season. These sweet treats have taken the world by storm with their autumnal flavors of nutmeg, pumpkin, and cinnamon. People everywhere have been visiting Starbucks or their local coffee shops just to get their hands on a pumpkin spice latte. But have you ever wanted to craft this delicious drink as well as other fall treats at home instead? Here are 3 of the best pumpkin spice recipes that will have you ready to get in the kitchen and start cooking.
Pumpkin Spice Latte
According to Adam and Joanne Gallagher from www.inspiredtaste.net, this is "the best homemade pumpkin spice latte recipe." It will surely motivate you to make the coffee house drink right at home.
For this recipe, you will need 2 cups of milk (dairy or nondairy). "This tastes best with 2% or whole milk, but you can substitute with skim milk. Non-dairy milk like soy, almond, or coconut milk will also work," says Joanne, a helpful trick for assuring the perfect latte. You will also need 2 tablespoons of pumpkin puree, 1 to 3 tablespoons of sugar (depending on how sweet you like it), 1 tablespoon of vanilla extract, 1/2 teaspoon of pumpkin pie spice, 1/2 cup of strong hot coffee, and whipped cream.  
First, add milk, pumpkin puree, and sugar to a saucepan over medium heat. Heat this until the mixture is hot, but make sure it does not boil.
Then, remove the saucepan from the heat and whisk in the vanilla, pumpkin pie spice, and the coffee. When this is completed, divide the mixture between two mugs. Top each mug with whipped cream and sprinkle a touch of that coveted pumpkin spice.
Pumpkin Spice Cookies with Cinnamon Cream Cheese Frosting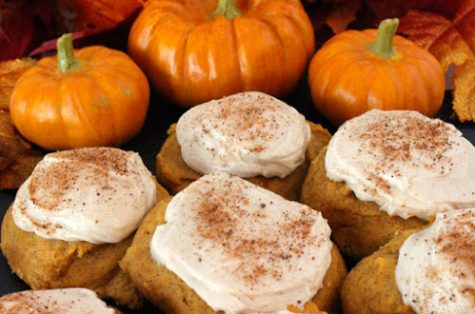 Two sisters crafting from http://www.twosisterscrafting.com/ have many people all around social media talking about their recipe for Pumpkin Spice Cookies. They state, "These Pumpkin Spice Cookies with Cinnamon Cream Cheese Frosting are cookies from Nancy and my childhood. They are made with love from our mom's decades-old recipe and taste like a bite of the Holidays."
For these tasty cookies, you will need 1/2 cup of butter, 1 cup of sugar, 2 eggs, 1 cup of canned pumpkin, 2 cups of flour, 4 tsp. of  baking powder, 1 tsp. of salt, 2 1/2 tsp. of cinnamon, 1/2 tsp. of nutmeg, 1/4 tsp. of ginger, and 1 optional cup of chopped walnuts or pecans.
To start, preheat your oven to 350-degrees. Then, inn a mixer, cream the butter and sugar until the mixture is light and fluffy. Then, add eggs and pumpkin to it. Make sure you mix this well.
Next, sift the flour, baking powder, salt, and spices together. Fold both mixtures into a cake batter. Now, you can add nuts if desired.
Then, drop a spoonful of the cookie batter onto a cookie sheet. Bake the batter in your 350-degree oven for 15 minutes. When the cookies are done, you should be left with a cake-y warm cookie.
Now, it is time to make the cream cheese frosting. For the frosting, you will need 1/2 cup of butter (sweet cream salted), an 8 ounce block of cream cheese, 3 teaspoons of vanilla, 4 cups of powdered sugar, and 1 teaspoon of cinnamon.
Beat a mixture of cream cheese, butter and vanilla until it is blended. Next, Add the powdered sugar one cup at a time and continue to mix it in until thoroughly combined. Lastly, add cinnamon. Frost each cookie using a knife. Now you can enjoy your homemade decadent fall treat!
Pumpkin Spice Waffles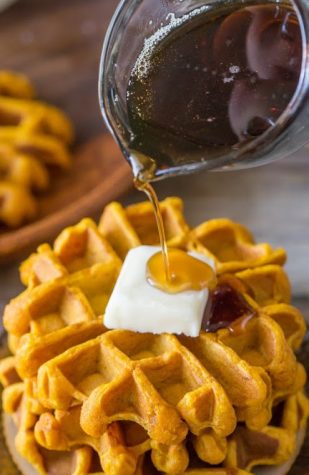 A woman named Julie Gransee shares her Pumpkin Spice Waffles recipe on www.lovelylittlekitchen.com. She reveals her discovery of this recipe, explaining, "I converted my very favorite Best Pumpkin Muffins into a waffle recipe and it worked out very well. I used McCormick's new Pumpkin Pie Spice Extract to give them that unmistakable flavor that screams fall is here!"
In this recipe, you will need 1/2 cup of coconut oil, 1/2 cup of sugar, 1/2 cup of brown sugar, 15 ounces of pure pumpkin puree, 2 eggs, 1/2 cup of whole milk, 1 teaspoon McCormick Pumpkin Pie Spice Extract (or any pumpkin spice extract), 1 teaspoon of vanilla, 1 1/2 cups of all-purpose flour, 1 tablespoon of baking powder, 1/2 teaspoon of salt, and 1/2 cup finely chopped pecans (optional).
First, preheat your waffle iron according to its directions. In a large bowl, whisk the coconut oil, both kinds of sugar, pumpkin puree, egg yolks, and milk together until it is smooth. Then, add the pumpkin spice and vanilla extract and stir all the ingredients together. 
Next, in a separate bowl, mix the flour, baking powder, and salt together. Pour and stir the flour mixture into the pumpkin mixture.
Now, in the bowl of an electric mixer, you will need to whisk the egg whites until they are white and fluffy. Then, fold the egg whites into the batter. Make sure you do this step gently.
Finally, scoop the waffle batter into the waffle iron and cook it. Once cooked, you can top your waffles with butter, syrup, whipped cream, and pumpkin spice.
With these fall recipes, you'll feel the spirit of the season from the comfort of your home!