The Importance of Breast Cancer Awareness Month
While the month of October is primarily hyped up because of Halloween, a much anticipated and exciting holiday, it is important to remember that October is also Breast Cancer Awareness Month.
As the second most common cancer in women, about 1 in 8 women will be diagnosed with breast cancer at some point in their lifetime. Therefore, a widespread understanding of breast cancer and the ways through which to detect it is critical to women's wellbeings.
Thankfully, many women survive the disease when it is found and treated at an early stage. However, not all women routinely check themselves or visit the doctor periodically for a mammogram, the screening test for breast cancer. Therefore, unfortunately, when the cancer goes unchecked for too long, it can escalate to terminal. Women need and deserve an unavoidable reminder to stay on top of their health.
To make matters worse, so much of the publicized attempts to raise awareness for breast cancer focus on the sexualization of breasts. "Save the Tatas" and "I Love Boobies" are phrases that dominate the discussion of breast cancer awareness; while they stand for a good cause, they cause considerable harm to breast cancer patients.
The problem with this method of raising awareness is that it oversexualizes the female body. It makes it seem like the point of fighting breast cancer is to save the breasts. This is simply not the case. The point of fighting breast cancer is to save the person, and it should be portrayed this way as well.
Further, this method is the very reason women like Angelina Jolie are publicly shamed for having breast removal surgery. In 2013, Jolie made the difficult decision to receive a double mastectomy after doctors informed her that she carried a faulty gene known as BRCA1. This gene comes with an 87% risk of developing breast cancer and a 50% risk of ovarian cancer. This gene is the reason her mother passed away at only 56-years-old.
Jolie correctly maintained her health by visiting doctors for the necessary tests that revealed this gene to her. Having the subsequent surgery was a hard but smart choice because, without it, she very likely would have developed breast cancer. Not to mention, she has every right to make the decisions that regard her own body.
Yet her name was still dragged through the mud. Critics condemned her for "destroying" her beautiful figure and failing to uphold her duties as a wife (ie. having a body that pleases her husband). To these people, a woman's life mattered less than a man's pleasure. To these people, a woman's life was not as valuable as the parts of her praised by society. To these people, a woman would be better left dead than without breasts.
That is why Breast Cancer Awareness Month matters so much. Because women must make the effort to be routinely checked. The media must depict the battle against breast cancer as a fight for survival, not for preserving the sexuality of a woman's body. And what women do with their bodies for their own survival, benefit, or desire must not to be policed by society; it is up to her and her only. A woman's life is worth far too much to be put at such a severe risk because of negative stigma.
Throughout the month of October, people across the nation adorn themselves in pink, the color of the breast cancer ribbon, in order to raise widespread awareness for the cancer. Sports teams wear pink uniforms, police officers wear pink badges, and everyday people dress in pink from head to toe and walk miles as a way to raise money for prominent organizations working to find a cure. In this way, October represents a month of unity for a very worthy cause.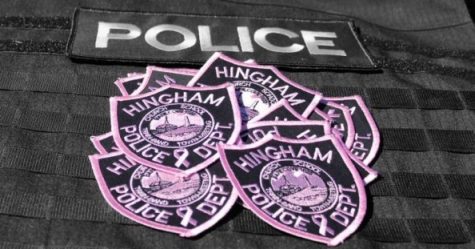 The Hingham community and Hingham High School specifically are no exception when contributing to the cause. During October, the Hingham Police Department as well as any other participating police agencies across the United States collaborate with the Pink Patch Project by selling pink police patches. All proceeds from the sales of the Hingham Police Pink Patch are donated to the Susan F. Smith Center for Women's Cancers at Dana-Farber Cancer Institute in Boston. Hingham officers are allowed to replace their standard shoulder patch with the Hingham Police Pink Patch as a reminder of Hingham's commitment toward raising awareness and educating Hingham residents on early detection and prevention.
Further, Hingham High students wear pink to their sports games, the lines of the turf field are sprayed pink, and the sports teams play Dig Pink games. Pink litters the hallways and colors the lives of everyone in the school. Nearly every student and staff member knows or knows of someone who has been affected by breast cancer. Every student and staff member wants to do all that they can to help.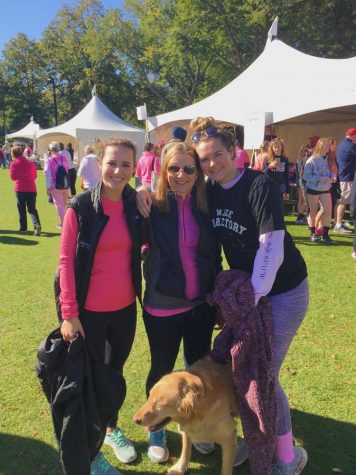 Among the students eager to make a difference are juniors Casey Hussey and Catherine Denning. The two have established an annual tradition of attending one of the breast cancer walks that occurs in Boston in early October, called the Making Strides Walk.
"The Making Strides Walk is always an amazing experience for me because I never fail to see the unity and strength among the participants," gushed Casey Hussey. "Whether they've been diagnosed themselves or they're supporting a loved one, people are decked out in pink, full of energy, and ready to go. It really shows me how powerful and positive people can be. Obviously we aren't all walking along the Charles River for the fun of it, but because we want to make a change."
"I think it's great that people are bringing awareness to breast cancer," said Catharine Denning of the month. "When more people know about it, more money is donated, and that money goes into the research for a cure."
Breast Cancer Awareness Month may seem like any other month to some people, but it is truly a month that brings millions of people together for the beautiful cause of saving lives.
When excitedly anticipating and preparing for upcoming holidays like Halloween and Thanksgiving, do not forget to recognize October for the other cause it represents. And if you or a loved one need a reminder to visit the doctor and make sure your health is in good shape, let this be it. Early detection and prevention are far more easily attained when you continuously visit the doctor.
Breast cancer impacts the lives of millions of people. The glaring prominence of breast cancer proves the importance of Breast Cancer Awareness Month; as long as Breast Cancer Awareness Month stands strong and people across the nation and within Hingham High School continue to support it, one day the fight for a cure will be won.