Wildfires Sweep Through Southern California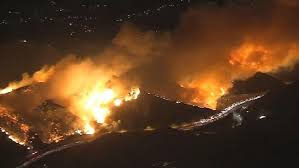 This past week, a series of raging wildfires have spread all over Southern California–from the movie city of Los Angeles to the college town of Santa Barbara. California Firefighters have worked for hours upon hours trying to calm the fires, some of which are larger than the entirety New York City.
Of the six major wildfires in California, the Thomas Fire is the largest; it has destroyed roughy 200,000 acres of land and 972 structures, according to Cal Fire. The Thomas Fire broke out in Ventura County on Monday, December 4.
Although the fire was small at first, strong Santa Ana winds carried the flames, threatening multiple additional areas. The area has also not received any rain in several months, allowing the fire to spread quickly in dry brush.
Many areas threatened by the fire ordered mandatory evacuations as the flames rapidly approached, including Ventura City. About one quarter of citizens in Ventura received orders to evacuate.
Also threatened by the Thomas Fire is Santa Barbara County. About two hours north of Los Angeles, the city of Santa Barbara is the home of many college students. Junior Kate Stupin's sister attends the University of California in Santa Barbara. Stupin reports that "the university is not threatened by the Thomas Fire."
"However," she adds, "my sister was not able to exercise outdoors because of the thick smoke in the air from the fire." Luckily, students at the University of California in Santa Barbara completed their Fall Semester this week, and were able to head home and avoid the potential threat of the fire.
Another fire in Southern California, the Skirball Fire, started on December 6 at a homeless shelter in Bel Air. The Los Angeles Police Department found that people staying in the shelter were cooking outdoors near dry brush, which caught fire and spread through the Bel Air area.
The Skirball Fire shut down parts of the 405 Freeway, and some colleges in Los Angeles were forced to cancel classes for a few days, including the University of California in Los Angeles. So far, the fire has damaged a total 475 acres and is about 50% contained.
The Los Angeles area is a favorite tourist destination for many, including Sophomore Deniz Gencoglu. Gencoglu recalls, "The people in Los Angeles are so friendly, and it is horrible that they are going through this, especially around the holiday season."
Currently, there are four other destructive fires raging in Southern California. Although none of the fires are completely contained yet, these fires are far less threatening to areas of residence than they were last week.
However, some of the fires have set records in the state of California. The Thomas Fire is the fourth largest fire in California history.
The fires in Southern California have caused major destruction so far. Hopefully they will be contained in the near future, especially since this is all occurring during the holiday season.