Hingham High School Introduces Unified Track
Each year, the spring season welcomes multiple eagerly anticipated sports back to Hingham High School. Many athletes spend the winter desperately waiting for the sun to come out and the springtime athletics to commence. But the start of this spring season has proven to be an especially exciting season for Hingham sports, as it introduced a brand new team to HHS: Unified Track.
Unified Track is designed to bring both disabled and neurotypical students together into one sport in which everyone can feel accepted and have fun. The HHS team has four captains in total, two of whom are neurotypical and two of whom have disabilities. These captains include freshman Bella Testa, freshman Mitch Wilson, senior Will Thomas, and senior Caroline Barrett.
Every Wednesday, Hingham High School's Unified Track team meets in Mrs. Bruno's room immediately after school. At these practices, team members prepare for events in upcoming meets with different exercises such as running, playing tag, and chasing each other through the hallways.
Laine Skamarycz, a junior on the team, explained that these practices are "definitely a great opportunity to be with everyone after school. It brings together new groups in the high school."
Kira Maguire, another junior on the team, completely agrees. In fact, she looks forward to Unified Track practices and meets each week.  "For me, it brightens my day," gushed Maguire. "It's the happiest part of my day. It builds a sense of leadership because it's hard to manage everyone at once and Ms. Foley is the only coach, so we as upperclassmen get to step up… I've learned to be a leader."
Junior Jenna Cross spoke about how much she enjoys Unified Track, cheerfully exclaiming, "I feel happy!" Freshman and captain Bella Testa also showed her love for the sport, explaining with a smile, "I've made lots of friends."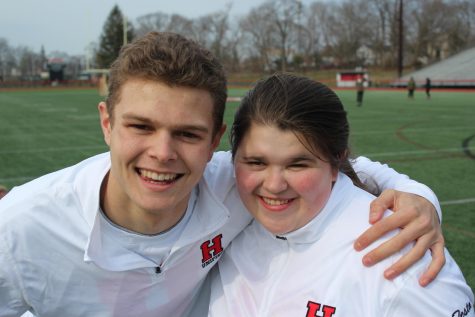 So far this season, there have been meets on Thursday, April 12th, and Thursday, April 26th. At every meet, Hingham High's Unified Track team competes against two or three different schools in events including the 100 meter, the 400 meter, the 800 meter, relays, shot put, long jump, and javelin.
These meets have been quite successful for Hingham. At the April 12th meet, junior Avery Berigan earned the title of Star Player. When asked if she loves Unified Track, Avery gave an enthusiastic "Yes!"
At these meets, students compete as athletes and partners, each partnership consisting of one neurotypical student and one disabled student. In the case of events such as the 4 by 1 and the 4 by 4 relays, two partners and two athletes all compete together.
One partnership on the HHS Unified Track team is freshman captain and athlete Mitch Wilson and his partner, senior Maggie Raso. When asked what his favorite part of the meets is, Wilson declared, "Running!"
"I'm very fast," he elaborated. Raso confirmed this when she proudly shared that Wilson actually "has the record for the 800 [meter]."
The team members had nothing but positive opinions of Unified Track to give and exciting stories to share. As of now, the team consists primarily of upperclassmen, so the members recommend that anyone who is interested joins the team next year to ensure that the fun continues.

"I would encourage anyone in the future to do it… I'm definitely going to do this next year," junior Emma Busby spoke.
Each and every member expressed genuine love for the sport and the team. It is certainly a great place to be for anyone searching for a supportive and accepting environment.
Captain and senior Will Thomas enthused, "It's been an incredible experience and I've got to make some new friends. I wouldn't trade this opportunity for anything."
The first home meet for Hingham's Unified Track team will be on Wednesday, May 9th. Be sure to come out to the track after school and support Hingham High's newest sports team!