Kavanaugh: Start to Finish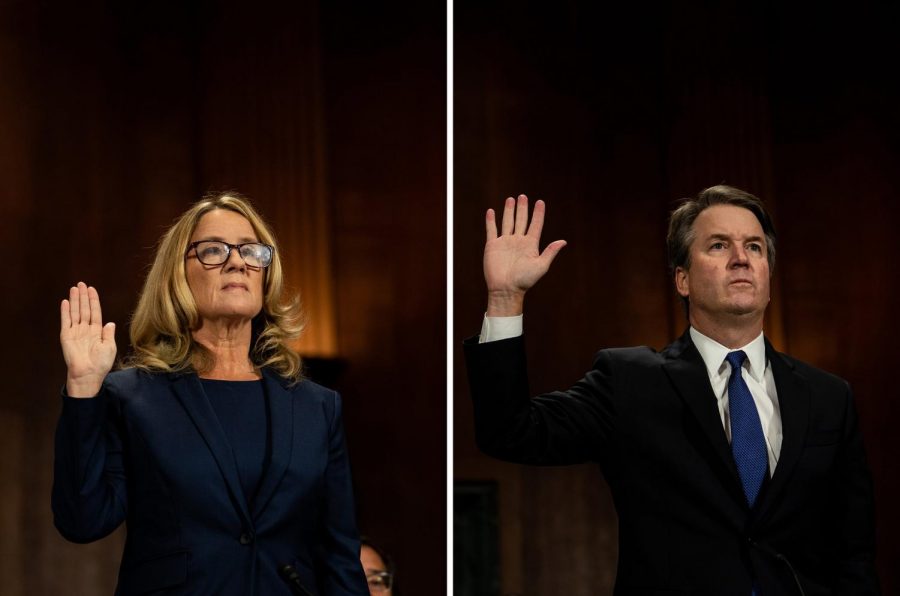 Stephanie Robison, Contributing Writer
October 7, 2018
The Accusation
In July 2018, Dr. Christine Blasey Ford, a professor of psychology at Palo Alto University, called in an anonymous tip to The Washington Post regarding Brett Kavanaugh, a United States Circuit Judge for the District of Columbia and candidate on the shortlist for the new Supreme Court Justice. Soon afterwards, when President Trump nominated Brett Kavanaugh, Ford contacted Democratic lawmakers with a letter detailing how Kavanaugh, in a drunken state, attempted to rape her nearly thirty years prior. She requested that the letter remain confidential. In August, acting on the advice of Washington lawyer Deborah Katz, Ford took a polygraph test, affirming that she was telling the truth about the incident.
Public Awareness
In September of 2018, The Intercept reported that Senator Dianne Feinstein of California held confidential information regarding Brett Kavanaugh that she would not share with the rest of the Senate Judiciary Committee. Senator Feinstein forwarded Ford's letter to the FBI. The FBI redacted names, and then sent the letter to Kavanaugh's file with the Senate. First The New Yorker and then CNN reported on the allegations, still without naming Dr. Ford. However, many were suspicious of her. News reporters visited her home, office, and classroom. As facts became distorted and rumors flew, Ford decided to come forward as the woman in question. She initially did not do so because she feared the public backlash, and believed that Kavanaugh would be nominated regardless of her accusations. On September 17th, Deborah Katz announced that Dr. Ford was willing to speak publicly about her past with Kavanaugh. Six days later, Deborah Ramirez came forward, claiming that Kavanaugh drunkenly exposed himself to her during college.  
The Hearings
Kavanaugh first testified in front of the American people on September 4, 2018. At the time, protesters criticized the rushed nature of the proceedings. Many senators had not reviewed key documents ahead of time, and the Ford allegations were not mentioned. During the first hearing, Kavanaugh did no answer pertinent questions regarding criminal procedures against a sitting president. As the nation became outraged over the allegations, a second hearing was scheduled. On September 27th, Ford and Kavanaugh testified before the Senate Judiciary Committee. Ford's speech was wrought with emotion and she emphasized that she was "100% sure" that it was Brett Kavanaugh attempted to sexually assault her. On the other hand, Kavanaugh's speech was impassioned and outraged. He nearly cried at numerous points. Some criticized his harsh language as too partisan or biased for a Supreme Court judge. In his testimony, Kavanaugh argued that he never drank to a point of being "blackout" drunk. He also referenced his calendar from the specified time period of the alleged assault to try to prove his innocence. The Committee pointed to Kavanaugh's high school yearbook that included activities like "Beach Week Ralph Club — Biggest Contributor," "Keg City Club (Treasurer)," and "Devil's Triangle." Ultimately, the committee voted to send the Kavanaugh's nomination to the Senate floor, on the condition that the FBI conducted an investigation into the claims. This compromise was led by Arizona-R Senator Jeff Flake.
FBI Investigation
The short investigation was narrow in scope; it only looked into sexual misconduct charges, as opposed to a wider scale personal investigation. Many believed that Kavanaugh deceived the committee when describing his drinking habits and were disappointed that such habits were not in the scope of the investigation. In total, the FBI called 11 witnesses, 10 of which testified. The FBI did not interview Ford or Kavanaugh. Many former classmates and friends, like high school acquaintance Angela Walker and Yale classmate and roommate Kenneth G. Appold, came forward with relevant information about Kavanaugh's aggressive behavior during high school and college, but they were not called by the FBI.
The Verdict
Saturday, October 6, 2018, the Senate voted 50-48 to confirm Brett Kavanaugh. He was sworn in a few hours later. This is the slimmest margin of Supreme Court Justice confirmation since 1881 with Justice Stanley Matthews. By Friday night, all undecided Senators had announced their decisions. Swing voters Republican Senator Susan Collins of Maine, Democrat Senator Steve Manchin of West Virginia, and Republican Senator Jeff Flake of Arizona all announced their support for Kavanaugh. Most senators voted along their party lines. Senator Joe Manchin of West Virginia was the sole Democrat to vote in favor of Kavanaugh. Republican Senator Lisa Murkowski of Alaska did not want to confirm Kavanaugh as she feared it would cause Americans to lose trust in the court system, but she voted "present" as part of a deal with Senator Steve Daines of Montana, who was attending his daughter's wedding.
Reactions
Men and women all over the country protested the confirmation. By siding with Kavanaugh over Ford, senators demonstrated that they either did not believe the sexual assault survivors who came forward, or, even worse, that they did believe that Kavanaugh was a predator but decided it did not matter.
HHS students also reacted strongly to the proceedings and the outcome. Senior Emma Petersen said, "I think it's awful the way Trump is making fun of Christina Blasey Ford for coming forward." Trump openly mocked Dr. Blasey Ford's testimony at a rally in Mississippi last week. Trump admitted publicly taunting Ford, claiming he "had to even the playing field." 
Although Ford's remarks ultimately did not change the verdict of Kavanaugh's confirmation, Ford's bravery certainly helped start a conversation. These events have shown that there are plenty of people, especially young people, who do not tolerate sexual assault and the belittling of it and will fight against it.  More importantly, these proceedings have showcased the solidarity of women, survivors, and supporters. Senior Kate Stupin summarized it perfectly: "I stand with Christine Blasey Ford."